New IPX8 Rated Piezo-Resistive Pressure Sensor IC with I2C bus Interface and Built-in FIFO for Home Appliances and Compact IoT Devices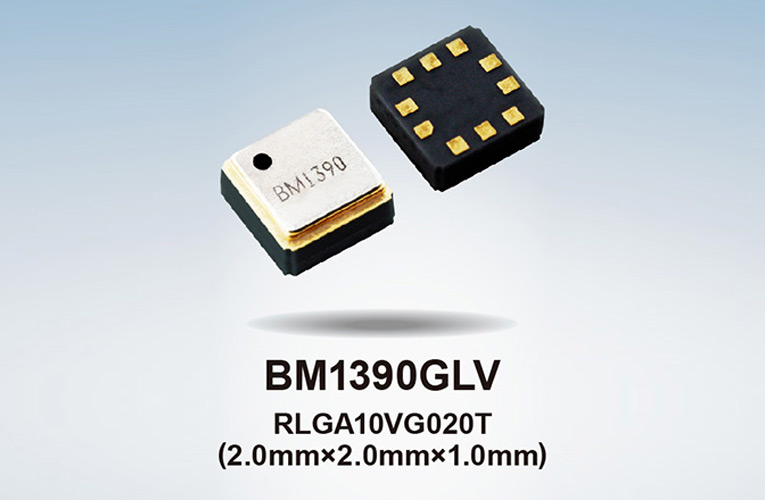 ROHM has introduced a compact, high accuracy barometric pressure sensor IC BM1390GLV(-Z) that is waterproof and strong against both temperature fluctuations and mechanical stress. The BM1390GLV IC performs temperature compensation for MEMS inside the chip internally and delivers IPX8 waterproof performance in a compact 2.0mm × 2.0mm × 1.0mm package. This new IC with an I2C bus interface and Built-in FIFO is ideal for home appliances, industrial equipment, and compact IoT devices and suits a wide range of applications like Smartphone, Healthcare, and Mobile devices.
This barometric pressure sensor IC features a proprietary built-in temperature compensation function that utilizes a proprietary algorithm and ensures superior temperature characteristics. This IC adopts a ceramic package that minimizes stress-induced characteristics fluctuations and eliminates the layout restrictions required for sensor placement of resin products, contributing to greater design flexibility.
Features
Piezo-resistive pressure sensor

Pressure range is from 300 hPa to 1300 hPa

Built-in temperature compensation function

I2C bus interface (f/s mode support)

Built-in FIFO

Small package

Waterproof
Applications
Smartphone

Healthcare

Mobile devices
Availability
This barometric pressure sensor IC BM1390GLV is now available at pricing of $3.0/unit.