New High-Speed Mode I2C Serial EEPROM with Software Write-Protection and Factory Programmed Serial Numbers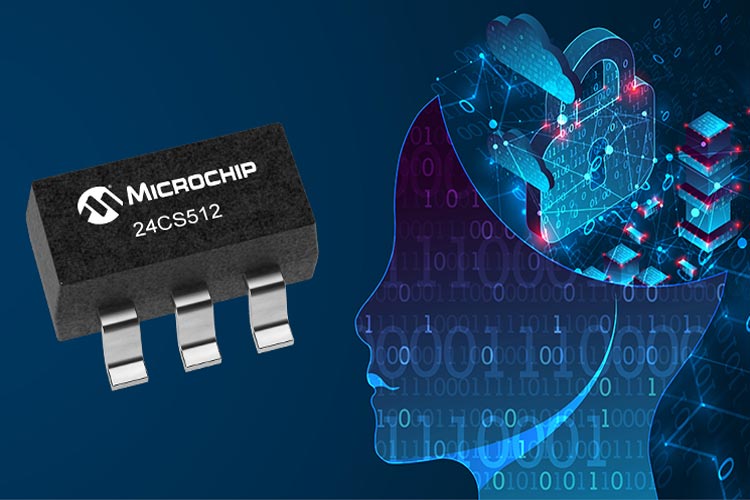 Microchip Technology Inc. has released the 24CS512 I2C Serial EEPROM with support for 3.4 Mbit/s data rates to close the trade-off gap between I2C and SPI in Serial EEPROMs. The 512 Kbit memory of the product provides a balanced solution for applications that benefit from higher data transfer speeds while retaining the simplicity and cost advantage of I2C. This high-speed EEPROM is 3 to 4 times faster than the existing EEPROMs and offers high-speed mode operation, software write-protection, and factory programmed serial numbers. This Device is organized as 65,536 bytes of 8 bits each (64 Kbytes) and is optimized for use in consumer and industrial applications where reliable nonvolatile memory storage is essential.
The 24CS512 I2C Serial EEPROM features an I2C (two-wire) serial interface with high-speed mode capability and a broad voltage range of 1.7V to 5.5V. The 24CS512 makes data management easy with its software write protection, lockable ID page, and pre-programmed 128-bit serial number. Moreover, it comes with a pre-programmed 128-bit serial number, which can eliminate the time-consuming step of performing and ensuring the serialization of a product on and across multiple manufacturing lines.
Additionally, this device also contains a Configuration register, which allows the write protection behavior to be configured for legacy hardware write protection or enhanced software write protection which allows the user to protect any of the eight independent 64-Kbit zones.
Features
64K x 8 (512 Kbit)

2-Wire Serial Interface, I2C™ Compatible

3.4MHz High Speed Mode Capable

Operating voltage 1.7V to 5.5V

Pre-programmed 128-bit serial number

User-programmable, lockable 128-byte ID page

Enhanced Software Write Protection

Hardware Write-Protect Pin

Built-in Error Correction Code (ECC) Logic

Page Write Time 5 ms Max.

Standby current 1uA, max.

Cascadable up to Eight Devices

Pb-Free and RoHS Compliant

Factory Programming Available
Applications
Consumer applications

Industrial applications