New Generation Automotive Battery Management IC for Hybrid Electric Vehicles and Large-Capacity Energy Storage Systems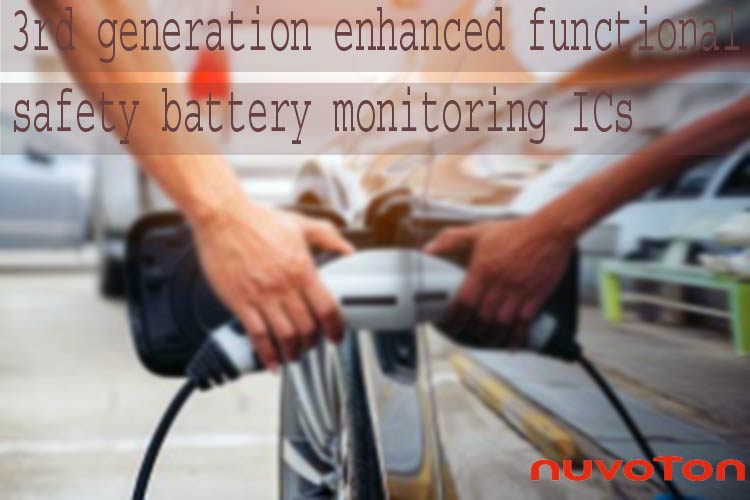 Nuvoton Technology Corporation has announced 3rd generation enhanced functional safety battery monitoring ICs KA84933 series that can detect a wide range of battery cell abnormalities and BMS failures with a redundant measurement system consisting duplicates of the battery cell input terminal, multiplexer, and AD converter. The new ICs KA84933UA, KA84923UA, and KA84939UA are equipped with a daisy communication function which enables automakers and battery module manufacturers to easily develop and design battery systems that comply with ISO26262 ASIL-D requirements. The ideal applications of these ICs include battery electric vehicles (BEVs), hybrid electric vehicles (HEV), and large-capacity energy storage systems (ESS).
These new BM-ICs have high withstand voltage at a maximum rated voltage 144V with integrated functions by fine process and measure up to 20 connected battery cells in series. These new devices with a high precision voltage measurement error of 1.5 mV, help to extend the cruising range of BEVs and support a wide input voltage range thereby maximizing the performance of lithium-ion batteries. Moreover, these ICs achieve high measurement over wide voltage ranges and temperatures by circuit technology that suppresses leakage current and corrects minute deviations in voltage accuracy at high temperatures.
Features
Supports up to 20 battery cells connected in series

Measurement accuracy: less than 1.5 mV (before shipment)

Redundant measurement system for functional safety

Support both event-driven and free-run measurement mode

Low shutdown current less than 1uA

2.5 MHz serial interface with packet error check function

63 ICs daisy chain connection using twisted pair cables for propagation of differential signals

13 CH of general purpose input/output (GPIO) which can be configured as analog input or digital input/output

I 2C serial bus interface

Designed for ISO26262-compliant systems

AEC-Q100 compliance
Applications
Electric and Hybrid Electric Vehicles (EV, PHEV, HEV)

Other power applications which utilize multi stacked battery cells