New Battery Charger IC with Thermal Shutdown for Low-Voltage Charging of Wearables and Compact IoT Devices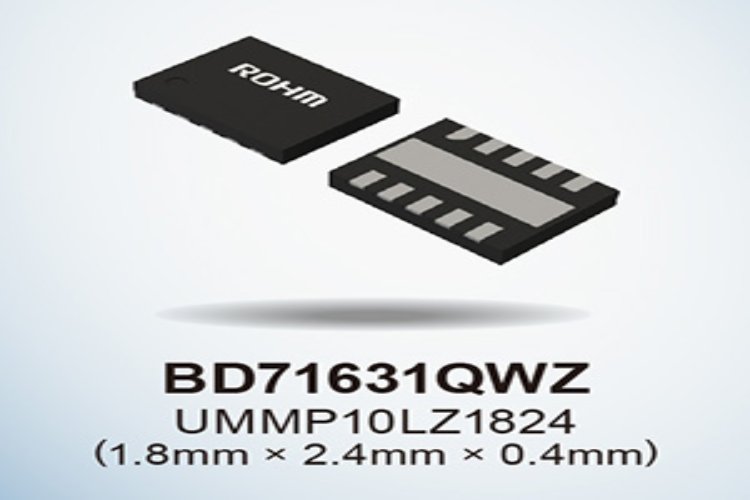 ROHM has developed a new battery charger IC BD71631QWZ that supports low voltage charging of not only li-ion but also new types of rechargeable batteries such as all-solid and semi-solid state and achieves low voltage charging over a wide range from 2.0V to 4.7V by improving the stability of the internal circuit. The new BD71631QWZ IC is designed to provide low-voltage charging of wearables like wireless earbuds and thin, compact IoT devices such as smart displays powered by rechargeable batteries.
This new IC utilizes original package technology to achieve a thin, compact 1.8mm × 2.4mm × 0.4mm form factor which results in reduced mounting height by 60% and footprint by 50%. This device enables the charge characteristics to be independently set, like charge current/voltage, termination current, recharge voltage for CCCV using an external resistor to achieve optimal charging based on the characteristics of rechargeable batteries.
Features
Adjustable Termination Current: 50μA to 10mA

Low Quiescent Battery Current: IBATT = 0μA (typ)

NTC Thermistor Input for Temperature Qualified Charging

Open-Drain Charge indicator LED Output

Fixed 10-hour Safety Timer

Thermal Shutdown

Under-Voltage Lockout Protection

Battery Over Voltage Protection
Applications
Devices equipped with low voltage and single-cell li-ion rechargeable batteries

Wearables such as wireless earbuds, electronic pens, e-cigarettes, etc.

Smart displays/tags and other compact IoT devices
Availability and Pricing
The BD71631QWZ battery charger IC is now available with $0.93/unit pricing.