New 3D Hall-Effect Sensor IC with Sine/Cosine Outputs for Low-Latency Motor Position Applications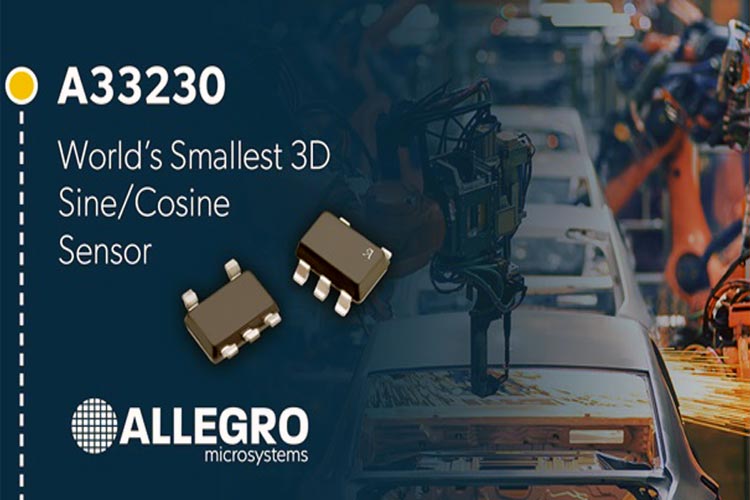 Allegro MicroSystems, Inc. has introduced the smallest A33230 3D sine/cosine hall-effect position sensor IC which contains two discrete analog signal paths for superior high-speed performance and offers system designers a cost-effective solution for automotive and industrial applications. This new sensor IC with a tiny SOT23-W package size can also be used as an angle sensor and is ideally suited for high-speed, low-latency motor position applications including brushless DC motors, AC synchronous permanent magnet, and asynchronous inductive motors.
The A33230 sensor IC incorporates vertical and planar Hall-effect elements with sensing axes that are orthogonal to one another, providing 90° of phase separation, which is inherently independent of magnet pole spacing and air gap. It comes pre-programmed to measure angles in any plane (XY, XZ, or YZ) while providing independent sine and cosine outputs.
Features
5 V supply voltage

Tiny SOT23-W

Pre-programmed axis combinations: XY, XZ, or YZ

Ratiometric outputs

Low output current

Two selectable sensitivities
Applications
Automotive applications

Industrial applications

Brushless DC motors

AC synchronous permanent magnet motors

Asynchronous inductive motors
Availability
The A33230 sensor IC is now available in a 5-pin SOT23-W package (suffix LH) which is RoHS compliant and lead (Pb) free with a 100% matte-tin leadframe plating.