NCS21X - High Precision Current Sense Amplifiers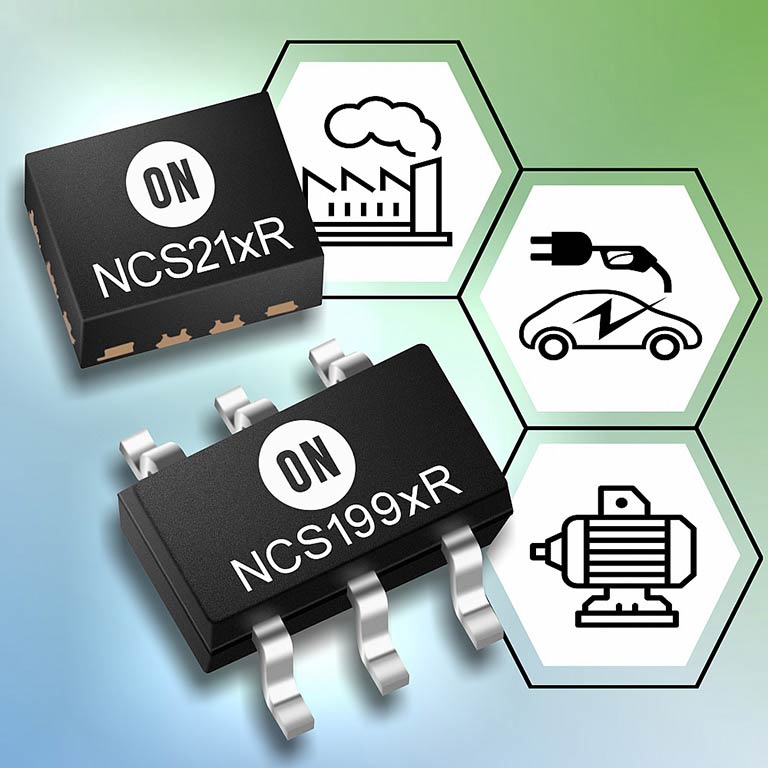 ON Semiconductor released NCS21x series of current sense amplifiers, along with FSA4480, a USB Type-C analog audio switch with integrated protection which can be used together in USB Type-C applications as well as other power-oriented applications.
The NCS21x family of bi-directional current sense amplifiers which include integrated, highly matched precision resistors, that offer an accurate, compact system design for measuring small differential voltages. The amplifiers can detect common mode voltages in the range -0.3 to 26 V, making them suitable for both high-side and low-side current sensing. The zero-drift architecture of the NCS21xR amplifiers provides a low input offset voltage (as low as 35 µV) and low offset drift (as low as 0.5 µV/°C). Together with integrated gain setting components, these current sense amplifiers are capable of sensing smaller voltage drops across the shunt, providing a higher gain accuracy and superior temperature performance.
Offered in 50/ 100/ 200, and 500/ gain options with a maximum gain error of ±1%, these devices consume a low quiescent current of 40 μA, which increases the efficiency and makes them perfect for power oriented, battery-powered applications. The small SC-70 and UQFN packages make them ideal for monitoring charging and discharging current for battery management in handheld applications such as smartphones, tablets and laptops. With the adoption of USB Type-C in rapid growth markets such as hybrid and electric vehicles and several consumer products, these current sense amplifiers have noted presence in the power management, motor control and signal conditioning blocks.
The NCS21x series of current sense amplifiers include the following devices:
NCS214R: Current Sense Amplifier, 26V, Low-/High-Side Voltage Out, Bidirectional Current Shunt Monitor
NCS211R: Current Sense Amplifier, 26V, Low-/High-Side Voltage Out, Bidirectional Current Shunt Monitor
NCS210R: Current Sense Amplifier, 26V, Low-/High-Side Voltage Out, Bidirectional Current Shunt Monitor
NCS213R: Current Sense Amplifier, 26V, Low-/High-Side Voltage Out, Bidirectional Current Shunt Monitor
Applications
Power Monitoring
Power Adapters
LED Power Supply
Over Current Protection
Automotive
Closed Loop Feedback Circuits