Multilayer Ceramic Capacitor with Compact Size and 1.0 µF Electrostatic Capacitance for Safety Applications in Automobiles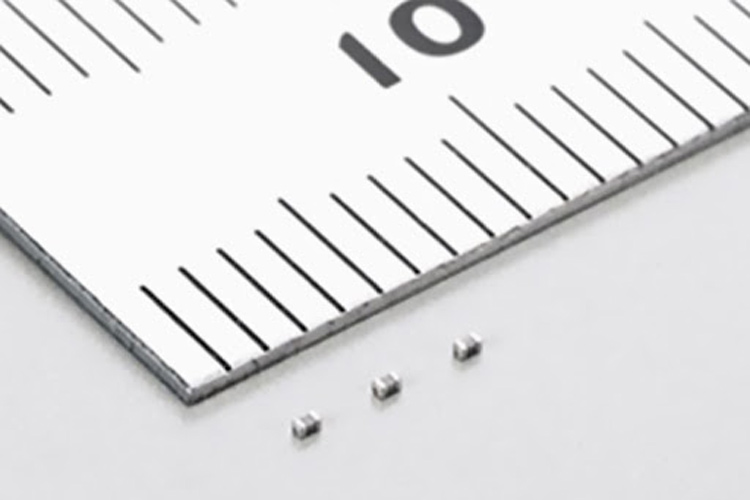 Murata Manufacturing Co., Ltd. Has developed a multilayer ceramic capacitor "GCM033D70E105ME36" in the 0201 inch size (0.6 × 0.3 mm) for powertrain and safety applications in automobiles. It features a maximum electrostatic capacitance of 1.0 µF and can be used at -55℃ to 125℃ temperatures. Moreover, this compact size Capacitor with an implementation area roughly 65% and volume roughly 80%, uses high-precision lamination techniques and thin layer forming techniques based on ceramics and the atomization and homogenization of electrode materials.
This Capacitor features a length of 0.6±0.09mm, thickness and width of 0.3±0.09mm with 1.0μF capacitance and 2.5Vdc rated voltage. The size of its external terminal ranges from 0.1 to 0.25mm and the distance between these terminals in 0.2mm min.
Features
Length: 0.6±0.09mm

Width: 0.3±0.09mm

Thickness: 0.3±0.09mm

Capacitance: 1.0μF ±20%

Distance between external terminals g: 0.2mm min.

External terminal size e: 0.1 to 0.25mm

Operating Temperature Range: -55℃ to 125℃

Rated Voltage: 2.5Vdc

Size code in inch(mm): 0201 (0603M)

Capacitance change rate: +22.0/-33.0%

Temperature characteristics (complied standard): X7T(EIA)

Temperature range of temperature characteristics: -55℃ to 125℃
Applications
Powertrain

Safety applications in automobiles