MLX81130 Multi-Channel OLED Controller with 25 Drivers for Automotive Applications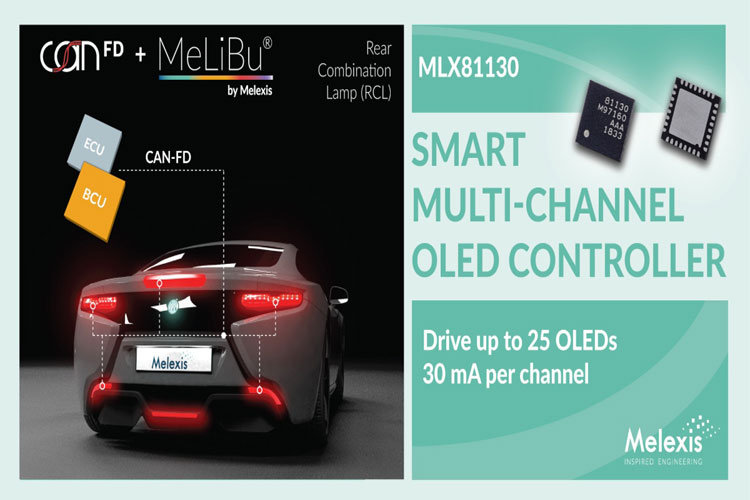 Melexis has developed an intelligent OLED controller that integrates all of the active components needed to realize combined point (LED) and area (OLED) lighting applications inside and outside the vehicle. Each MLX81130 can drive 25 LEDs/OLEDs and it supports the Melexis Light Bus interface. It allows simpler static and animated lighting system development and is especially suitable for Rear Combination Lamps (RCL) or small OLED displays.
The MLX81130 in a QFN 5x5 package features 25 programmable constant current sources. It has been designed to operate in single-master, multiple-slave configurations. Each constant current output is controlled through the integrated 16-bit MLX16 FX pipelined microcontroller, supported by a 32-bit math co-processor and 32 KB of Flash. Two watchdog timers with independent clocks and a 10-bit ADC are also provided. Outputs can be controlled via PWM. These output currents are programmable in steps of 1mA between 0mA and 15mA, then 2mA steps up to 30mA per output.
Features
25 OLED drivers programmable up to 30 mA per channel

Communication interface MeLiBu

5.5 - 18 V supply voltage (40 V proof)

8-bit intensity control

Storage of OLED calibration data directly within OLED driver

High side programmable calibrated current sources for OLED control

Direct OLED drive without additional external components

Operating temperature from -40°C to 125°C

ASIL B classification

AECQ-100
Applications
Animated/Static interior and exterior lights

Rear Combination Lamp (RCL)

Interior and exterior small OLED display