MGC3140 - Automotive-Qualified 3D Gesture Recognition Controller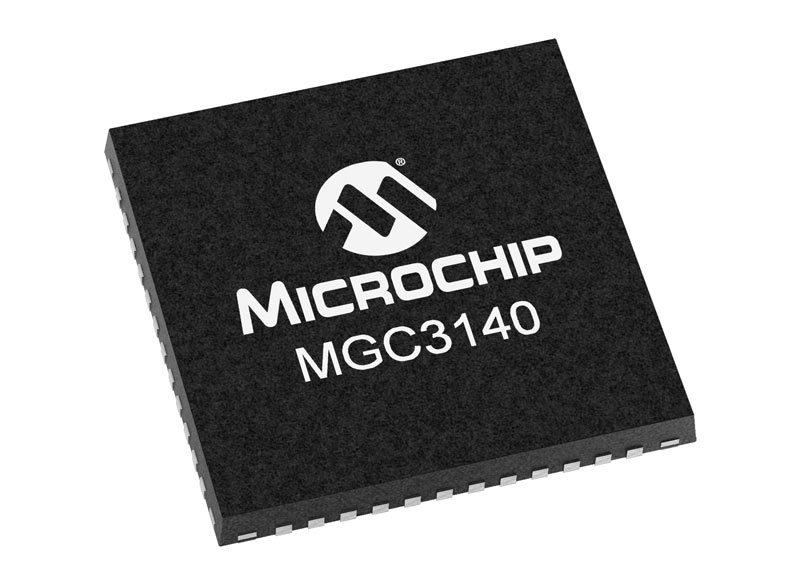 Car manufacturers are increasingly seeking ways to reduce driver distraction through implementing functional safety technology in vehicles. Many Human Machine Interface (HMI) designers are turning to gesture recognition as a solution to improve driver and vehicle safety without sacrificing interior design, adding features that allow drivers to easily control everything from switching on lights to answering phone calls while focusing on the road. Microchip today announced a new three-dimensional (3D) gesture recognition controller that offers the lowest system cost in the automotive industry, providing a durable single-chip solution for advanced automotive HMI designs. The MGC3140 joins Microchip's family of easy-to-use 3D gesture controllers as the first qualified for automotive use.
Suited for a range for applications that limit driver distraction and add convenience to vehicles, Microchip's new capacitive technology-based air gesture controller is ideal for navigating infotainment systems, sun shade operation, interior lighting and other applications. The technology also supports the opening of foot-activated rear liftgates and any other features a manufacturer wishes to incorporate with a simple gesture action. The MGC3140 is Automotive Electronics Council AEC-Q100 qualified with an operating temperature range of -40 to +125 degrees Celsius, and it meets the strict electromagnetic interference (EMI) and electromagnetic compatibility (EMC) requirements of automotive system designs. Each 3D gesture system consists of a sensor that can be constructed from any conductive material, as well as the Microchip gesture controller tuned for each individual application.
While existing solutions such as infrared and time-of-flight technologies can be costly and operate poorly in bright or direct sunlight, the MGC3140 offers reliable sensing in full sunlight and harsh environments. Other solutions on the market also come with physical constraints and require significant infrastructure and space to be integrated in a vehicle. The MGC3140 is compatible with ergonomic interior designs and enables HMI designers to innovate with fewer physical constraints, as the sensor can be any conductive material and hidden from view.
Development Tools
The Emerald evaluation kit provides a convenient evaluation platform for the 3D gesture recognition controller. The kit includes a reference Printed Circuit Board (PCB) with the MGC3140 controller, a PCB-based sensor to recognize gestures, as well as all needed cables, software and documentation to support an easy-to-use user experience. All parts are compatible with Microchip's Aurea software development environment which supports all Microchip 3D gesture controllers.
Additional Features
AEC-Q100 Qualified
5 Tx Electrode
5 Rx Electrodes
Communication via serial I2C interface
Sensing Type: E-Field
Detection Range: 0 to 20 cm
Resolution: 200 dpi
5 pin Gesture Port
Package Type: 48-pin 6x6mm UQFN
Operating Temperature Range: -40 degC to +125 degC
Important Parameters
Product Type: 3D Positioning/Gesture
Input Channels: 5
Proximity detection: Yes
Output Channels: 5
Measurement Principle: E-Field
Report Rate (pps): 200
Power: 3.3Vdc ±5%
Power Modes: 3
Interface: I2C
I/O, LED Drivers: 5
Voltage Range: 3.14V - 3.47V