MAX22701E - Isolated Silicon Carbide Gate Driver to Increase Power Efficiency and System Uptime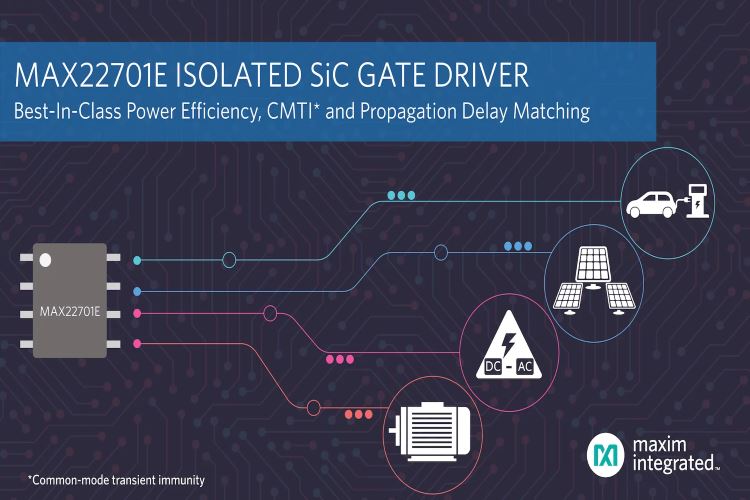 The Maxim Integrated Products has released its new isolated gate driver IC MAX22701E. The IC is designed to improve power supply efficiency in high-voltage/high-power systems by up to 4% over other IC modules; it also reduces power loss and reduction in resulting carbon footprint by 30 percent. The driver IC is intended to be uses in switch-mode power supplies within industrial communication systems for solar power inverters, motor drives, electric cars, energy storage systems, uninterrupted power supplies, data farms, and high-power/high-efficiency power supplies.
Features of MAX22701E-Isolated Gate Driver:
Matching Propagation Delay: 20ns minimum pulse width, 35ns propagation delay at room temperature, 2ns Part-to-Part propagation delay matching at room temperature

High CMTI (300KV/uS,typ)

Robust Galvanic Isolation: Withstands 3kVRMS for the 60S (VISO), continuously withstands 848VRMS (VIOWM)

Precision UVLO

Options to support a brand range for Applications

Reduced Energy Loss: 5x lower part-to-part propagation delay matching significantly reduces dead time and energy losses.

Increased Uptime: Up to 3x higher CMTI (300kV/us typically) minimizes large common-mode transients between the input and output to increase uptime in noisy environment.
Note: More technical details on the MAX22701E product can be found in the datasheet which is provided at the bottom of this page.
The high switching frequency in SMPS applications incurs transients that generate noise, which either disrupt operations or require extensive mitigation. The MAX22701E offers 300kV/us of CMTI, which can be used to deliver industry-leading reliability, and results in increased system uptime. The IC offers propagation delay of 35ns and propagation delay matching between the high-side and low-side gate drivers (5ns max), which reduces the transistor's dead time. All these features help in improving its efficiency by up to 4% points. In the 90 percent efficiency range, every 1 percentage point in efficiency results in about a 10 percent improvement in power loss.
For example, improving efficiency from 90 to 94 percent results in approximately 30 to 40 percent reduction in wasted power (6 versus 10 points of wasted power.) The MAX22701E is available in 8-pin narrow body SOIC package (3.90mm x 4.90mm) with an extended temperature range of -40°C to +125°C. The MAX22701E is available at Maxim's website for $1.69 (1000-up, FOB USA). It is also available from authorized distributors. The MAX22701EVKIT# evaluation kit is available for $44. For further information on the MAX22701E product, visit the company's product page.