Low Capacitance ESD Protection Diodes with High Robustness for Automotive Infotainment Applications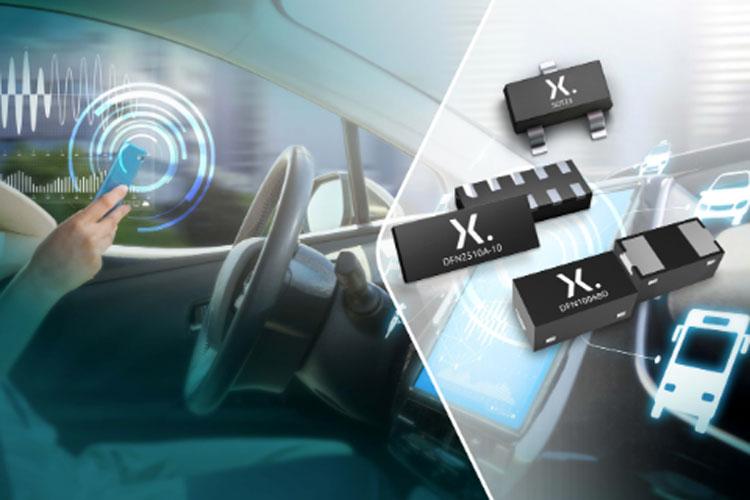 Nexperia has released four new AEC-Q101-qualified TrEOS ESD protection devices for automotive use and high temperature capable up to 175°C. The newly introduced parts combine extremely low capacitance, thereby ensuring high signal integrity, extremely low clamping, and high robustness for modern automotive interfaces. From infotainment to multimedia and ADAS systems featuring USB 3.2, HDMI, LVDS, SerDes, and SD-card interfaces, these devices are used for various automotive purposes.
Nexperia's TrEOS ESD protection technology makes use of active silicon-controlled rectification to overcome the traditional protection trade-off challenge. The capacitance is kept down to 0.5 pF, clamping voltage is just 3V and devices can withstand surge and ESD pulses up to 10 A 8/20 µs.
This industry-leading performance in all areas is delivered in the extensively-proven SOT23 package. As put in by the product manager at Nexperia, these newly launched parts will enable automotive design engineers to empower their new systems with the efficiency of TrEOS ESD protection while improving system-level robustness. The first four PESD2USBx-T series AEC-Q101-qualified TrEOS ESD protection devices are currently in mass production.
Features of TrEOS ESD Protection Devices
Qualified according to AEC-Q101 / Automotive grade

0.5 pF capacitance

                                

3 V clamping voltage

Can withstand surge and ESD pulses up to 10 A 8/20 µs

High-temperature capability: Tj = 175 °C
Note: More technical information can be found in the PESD2USB5UX-T datasheet linked at the bottom of this page and on the PESD2USB3UV-T, PESD2USB3UX-T, PESD2USB5UV-T, PESD2USB5UX-T product page.