LoRa STM32WLE5 SoC with ultra-low-power STM32 Microcontroller Design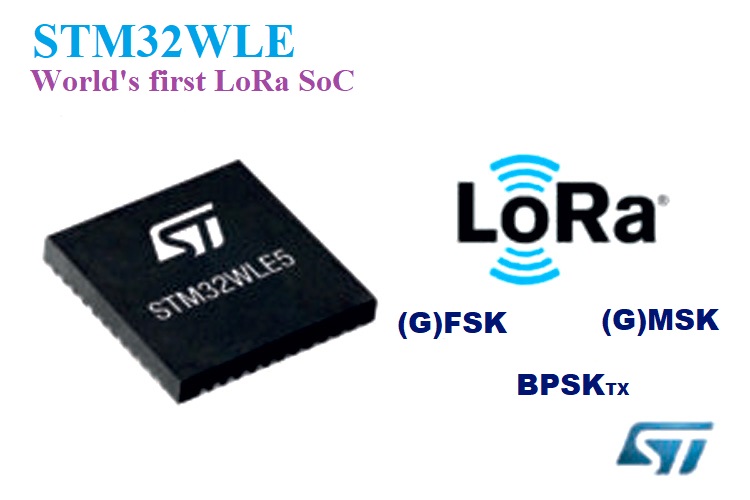 STMicroelectronics has introduced the STM32WLE5 SoC, the LoRa system-on-chip (SoC) for connecting smart devices with LoRa Internet of Things (IoT) using long-distance wireless connections. The SoC combines ST's ultra-low-power STM32 microcontroller design with a LoRa compliant radio in one single-die and easy-to-use device. The new wireless STM32 SoC simplifies new product development with a reduced bill-of-materials cost, maximum system reliability, and energy efficiency. By using the STM32 MCU architecture, developers can easily introduce wireless connectivity in existing embedded design by porting to the STM32WLE5.
Features of STM32WLE5
Operates at a supply voltage range of 1.8V to 3.6V

Operates on a supply current of 0.23µA at low power mode and 63µA at run mode.

Operating Temperature range: -40°C to 85°C.

Operating Frequency: 48 MHz

Supports connectivity with 2FSK, BPSK, GMSK, LoRa, and SigFox.

STM32WLE5J8 has a flash memory of 64Kbytes and SRAM of 20Kbytes

STM32WLE5JB has a flash memory of 128Kbytes and SRAM of 48Kbytes

STM32WLE5JC has a flash memory of 256Kbytes and SRAM of 64Kbytes
STM32WLE5 enables the product developers to create devices such as remote environmental sensors, meters, trackers, and process controllers that help efficiently manage energy and resources. It is available in a 5mm x 5mm UFBGA73 package and is fully integrated into the market-proven STM32 ecosystem including STM32Cube software support as well as a LoRaWAN stack certified for all regions and it is available in the source-code format. For more information about the STM32WLE5 series, visit the official website of STMicroelectronics.