Leadless ESD Protection Diodes in DFN1412D-3 and DFN1110D-3 Package Released for CAN-FD Applications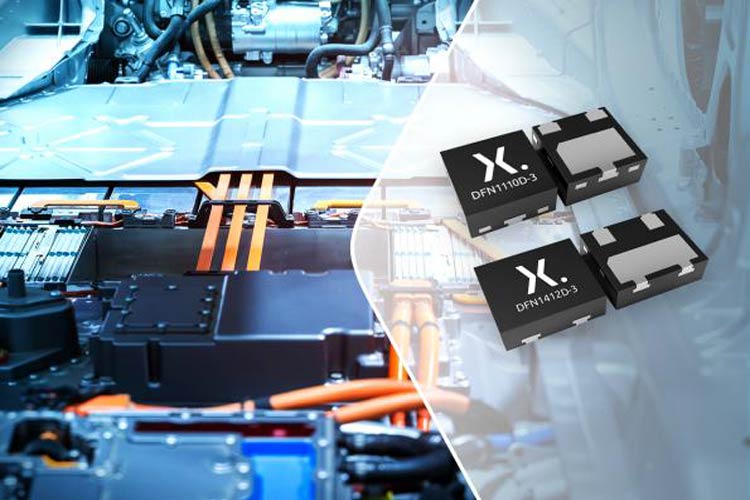 Nexperia has introduced the new leadless AEC-Q101-qualified, ESD protection devices for CAN-FD applications. The PESD2CANFDx series offers industry-leading ESD and RF performance, and save PCB space. The PESD2CANFDx series are available in DFN1412D-3 and DFN1110D-3 leadless DFN packages with side-wettable flanks occupy 80% less PCB space than the traditional SOT23 and SOT323 packages, these side wettable flanks also enable AOI tools to be used.
The larger internal lead frame of the PESD2CANFDx series includes a heat sink and thermal pad improves the thermal behavior. The industry's lowest clamping voltages of only 33 V at IPP = 1 A and low dynamic resistance of 0.7 Ω makes them very ESD robust and delivers excellent system-level protection performance.
The ESD protection devices offer excellent RF switching parameters that feature a mixed-mode insertion loss of just +20 dB at 300 MHz, leading to excellent signal integrity. The PESD2CANFDx series includes 20 devices that can be used in automotive and industrial applications including CAN/CAN-FD, FlexRay, SENT, and LVDS.
Features of PESD2CANFDx Series
Reverse stand-off Voltage: 24V and 27V

Low Clamping Voltage: 33V at 1A IPP

ESD protection up to 15kV

Low capacitance: 3.2 to 9 pF

Low dynamic resistance of 0.7 Ω

ESD protection up to 23 kV (ISO 10605; C = 150 pF; R = 330 Ω)

AEC-Q101 qualified
Note: More technical information can be found in the PESD2CANFD24V-QC Datasheet linked at the bottom of this and on the PESD2CANFDx CAN-FD protection diodes product page.