Jetson Xavier NX - Compact & Powerful AI Supercomputer for Robotics and Embedded Computing Edge Applications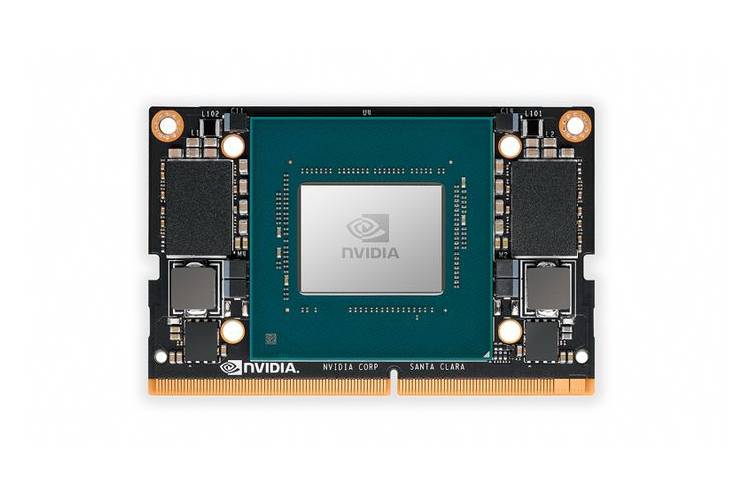 NVIDIA has introduced Jetson Xavier NX, a small and powerful supercomputer for robotic and embedded computing devices. It is available in the size of a credit card and has a high energy-efficiency,  it delivers server-class performance up to 21 TOPS for running modern AI workloads and consumes less power of 10W. The Jetson Xavier NX is suitable for applications that demand increased performance in constrained size, weight, power budgets or costs like commercial robots, drones, intelligent high-resolution sensors for factory logistics and production lines, optical inspection, network video recorders, portable medical devices, and other industrial IoT systems.
Specifications of Jetson Xavier NX
GPU: NVIDIA Volta with 384 NVIDIA CUDA cores and 48 Tensor Cores, plus 2x NVDLA

CPU: 6-core Carmel Arm 64-bit CPU, 6MB L2 + 4MB L3

Video: 2x 4K30 Encode and 2x 4K60 Decode

Camera: Up to six CSI cameras (36 via virtual channels); 12 lanes (3x4 or 6x2) MIPI CSI-2

Memory: 8GB 128-bit LPDDR4x; 51.2GB/second

Connectivity: Gigabit Ethernet

OS Support: Ubuntu-based Linux

Module Size: 70x45mm
The Jetson Xavier NX can deliver  14 TOPS (at 10 W) or 21 TOPS (at 15W), run multiple neural networks in parallel and process data from multiple high-resolution sensors simultaneously in a Nano form factor. For companies already building embedded machines, it can run on the same CUDA-X AI software architectures offered by all Jetson, which will ensure quick time to market and low development costs. The Jetson Xavier NX is supported by NVIDIA Jet Pack software development kit, a complete AI software stack that can run modern and complex AI network, accelerated libraries for deep learning as well as computer vision, computer graphics and more.
The Jetson Xavier NX is the latest addition to the Jetson family, which includes Jetson nano, the Jetson AGX Xavier series, and the Jetson TX2 series. The Jetson Xavier offers a rich set of IOs from high-speed CSI and PCIe to low-speed I2Cs and GPIOs and they are compatible with many peripherals and sensors within a small space and big performance, all these qualities might bring new capabilities to embedded AI and industrial IoT systems.
The Jetson Xavier NX is also pin-compatible with Jetson Nano, allowing shared hardware designs and those with Jetson Nanocarrier boards and systems to upgrade to Jetson Xavier NX. It also supports all major AI frameworks, including TensorFlow, PyTorch, MxNet, Caffe and others. The Jetson Xavier NX module will be available at a price of $399 from March at NVIDIA's distribution channels for companies looking to create high-volume production edge systems.  For more information visit the product page on the official website of NVIDIA.