Jetson Nano – AI Computer from NVIDIA for Developers, Makers and Enthusiasts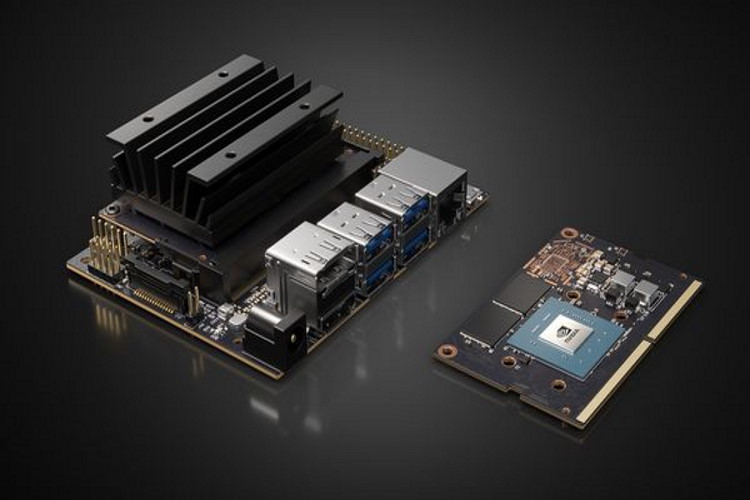 NVIDIA has announced Jetson Nano, an AI computer that is capable of running all popular AI Models. It consists of CUDA-X, which is a collection of over 40 acceleration libraries that enable modern computing applications. It delivers 472 GFLOPS of computer performance, which can run modern AI workloads. The Jetson Nano is capable of supporting high-resolution sensors and can process many sensors in parallel. It can run multiple modern neural networks on each sensor stream and support different AI frameworks, which makes it easy for developers. It kit includes the Jetson AGX Xavier module and Jetson TX2 computing device which allows the developers from different AI platforms to integrate their preferred models and frameworks into their products with ease.
Features of Jetson Nano:
GPU: 128-core NVIDIA Maxwell architecture-based GPU

CPU: Quad-core ARM A57

Video: 4K @ 30 fps (H.264/H.265) / 4K @ 60 fps (H.264/H.265) encode and decode

Camera: MIPI CSI-2 DPHY lanes, 12x (Module) and 1x (Developer Kit)

Memory: 4 GB 64-bit LPDDR4; 25.6 gigabytes/second

Connectivity: Gigabit Ethernet

OS Support: Linux for Tegra

Module Size: 70mm x 45mm

Developer Kit Size: 100mm x 80mm
Note: The full specifications for Jetson Nano can be found in the specification section on official website.
The NVIDIA CUDA-x consists of JetPack SDK which is a complete AI software stack with accelerated libraries for deep learning, computer vision, computer graphics, and multimedia processing. The Jetson Nano comes in two versions – the devkit suitable for developers, makers, and enthusiasts and production-ready module for companies.
The developer kit comes with out-of-the-box support for full desktop Linux, compatibility with many popular peripherals and accessories, and ready-to-use projects and tutorials that help makers get started with AI fast. The Jetson Nano module is used in embedded applications, network video recorders, home robots, and intelligent gateways with full analytics capabilities. It is designed to reduce overall development time and comes with power management, clocking, memory and fully accessible input/output.
The NVIDIA Jetson Nano Developer kit is available now for $99. The Jetson Nano module is $129 (in quantities of 1000 or more) and will begin shipping in June. Both will be sold through NVIDIA's main global distributors.