Highly Efficient and Cost-Effective PMICs for Power Management in HiFive RISC-V Linux Development Platform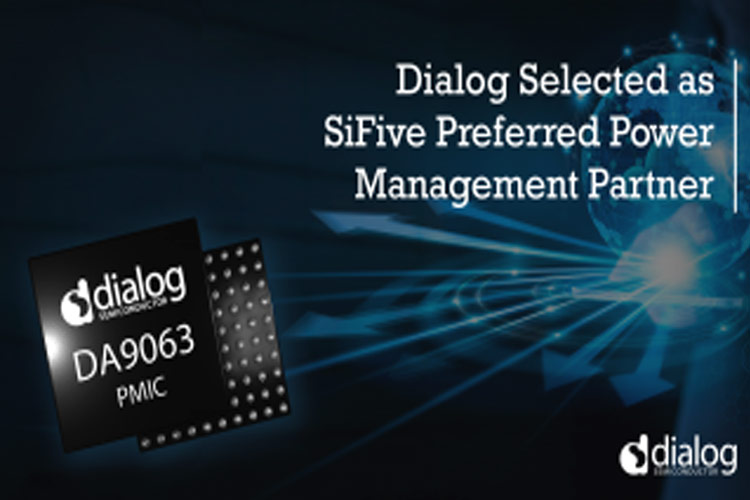 Dialog Semiconductor has announced that it had partnered with the SiFive and acts as a preferred power management partner for SiFive's HiFive Unmatched, a form-factor RISC-V Linux Development Platform for the SiFive Freedom U740 RISC-V SoC. Dialog's highly integrated DA9063 system PMIC with 6 DC-DC Buck Regulators and 11 LDOs is being used in the HiFive Unmatched platform.
Along with maximizing the performance of SiFive, the DA9063 also supports Dynamic Voltage Scaling (DVS) that dramatically reduces the power dissipation and thermal footprint of the platform. The highly flexible and scalable DA9063 system PMIC comes with a built-in configurability engine that provides system designers the ability to easily solve their power sequencing, thermal, and system control challenges.
The intuitive GUI (Smart Canvas) of DA9063 simplifies the customization to achieve an "exact fit" power management solution. This provides a highly optimized, cost-effective power management solution that enables the most competitive, differentiated system design.
Features of DA9063 PMIC
Input voltage 2.8 V to 5.5 V

Six buck converters, 0.3 V to 3.34 V up to 2.5 A: Dual-phase mode up to 5 A; Merged mode up to 3 A; DDR VTT supply mode; DVS support

3 MHz switching frequency allows the use of low-profile 1 µH inductors

Integrated power switches

11 LDO regulators, 0.6 V to 3.6 V up to 300 mA: Three low-noise LDOs; Four with DVS; Five with current-limited switch option

Coin cell/super-capacitor backup charger

1.5 µA RTC with alarm and wakeup
Note: More technical information can be found in the DA9063 Datasheet linked at the bottom of this page and on the product page of DA9063 Programmable PMIC.