High-Speed ADCs with High Resolution and Sampling Rate for Extended-Temperature Operation in Aerospace, Defense, Industrial, and Automotive Applications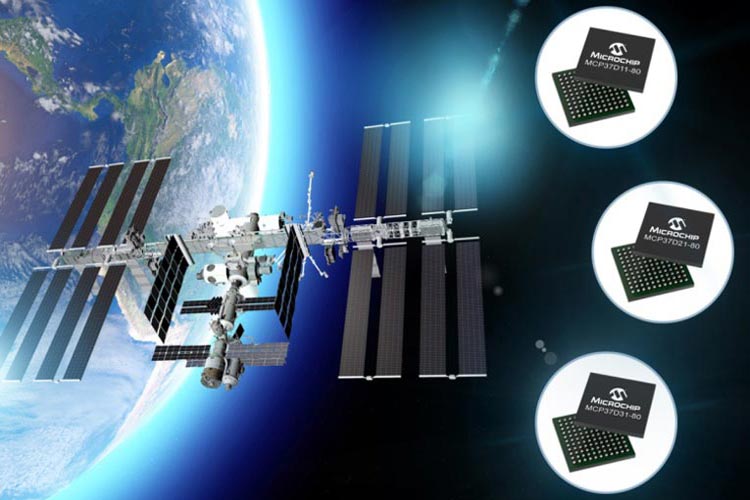 Expanding the range of solutions for aerospace and defense, industrial, and automotive applications, Microchip Technology has rolled out a family of new high-speed Analog-to-Digital Converter (ADC), namely MCP37Dx1-80. The AEC Q100-qualified ADCs are developed to meet the growing customer demand for robust devices that can be used in high-temperature applications and offer integrated digital processing functions that simplify design and reduce overall development costs.
The MCP37Dx1-80 ADCs combine 80 MSPS in a choice of 12-, 14-, and 16-bit resolutions, and come with integrated digital features. These can operate at a temperature range of up to -40°C to +125°C and are best suited for applications like Advanced Driver Assistance Systems (ADAS), autonomous driving, Low Earth Orbit (LEO) satellites, and test and measurement equipment.
The device comes in a compact 8mm x 8mm 121-pin ball grid array (BGA) packages with 0.65mm pitch with a built-in reference decoupling capacitors. The integrated digital features of MCP37Dx1-80 ADCs eliminate external components and reduce MCU post-processing too.
Features of

MCP37Dx1-80

ADCs
Industry qualified to AEC-Q100 grade 1 standard and operate over a -40°C to +125°C temperature range.

Compact 8mm x 8mm 121-pin ball grid array (BGA) packages with 0.65mm pitch include built-in reference decoupling capacitors

The decimation filters improve the signal-to-noise ratio (SNR)

Digital down-converter (DDC) supports communication designs

Noise-shaping requantizer in the 12-bit ADCs improves accuracy and performance

They reduce cost and overall footprint by eliminating the need for external bypass capacitors
The 12-bit MCP37D11-80, 14-bit MCP37D21-80, and 16-bit MCP37D31-80 ADCs are available for volume production and are priced at $17.45, $29.87, and $40.42 each, respectively in 10,000-unit volumes.
Note: More technical information can be found on the MCP37Dx1-80 ADCs product page.