High Performance 32-Bit RX671 Microcontrollers with HMI Functions for Contactless Operation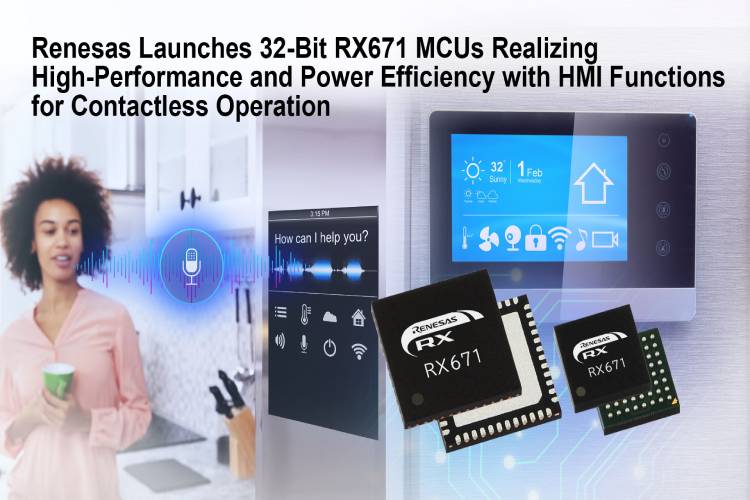 Renesas Electronics has introduced a single-chip solution with touch sensing and voice recognition capabilities for contactless operation to the popular RX Family. The new 32-Bit RX671 microcontrollers are part of Renesas' mainstream RX600 Series and are built around an RXv3 CPU core operating at 120 MHz and each device integrates flash memory supporting fast read access at a clock speed of 60 MHz thereby delivering superior real-time performance with a CoreMark score of 707. The RX671 MCUs come with 2 MB of flash memory in a 64-pin TFBGA package measuring only 4.5 mm × 4.5 mm and are suitable for a wide range of applications that require advanced functionality, power efficiency, and compact size, such as heating, ventilation, and air conditioning (HVAC), smart meters, and smart home appliances.
These microcontrollers integrate a capacitive touch sensing unit that combines high sensitivity with excellent noise tolerance thereby making the devices capable of being used to implement contactless proximity switches. Moreover, the serial sound interface can be used to connect digital microphones that support voice recognition over long distances.
Besides these microcontrollers, Renesas also introduced two new evaluation boards that make it easy for the users to evaluate the RX671 without the need for the separate debugger. Both the boards are equipped with connectors to the Wi-Fi Pmod Expansion Board for easy evaluation utilizing wireless network connectivity. 
Features
32-bit RXv3 CPU core

Low-power design and architecture

On-chip code flash memory

On-chip data flash memory

On-chip SRAM

External address space

Useful functions for IEC60730 compliance

Up to 25 extended-function timers

Up to 114 pins for general I/O ports
Applications
Heating, ventilation, and air conditioning (HVAC)

Smart meters

Smart home appliances
Availability
The RX671 Group of MCUs is available in 64-, 100-, and 144-pin LFQFP packages and mass production of the 48-pin HWQFN, 64-pin TFBGA, 100-pin TFLGA, and 145-pin TFLGA package products is scheduled to start in Q1 2022.