High Efficiency Low Voltage 3A Buck Converter Targets High Power Density Automotive Designs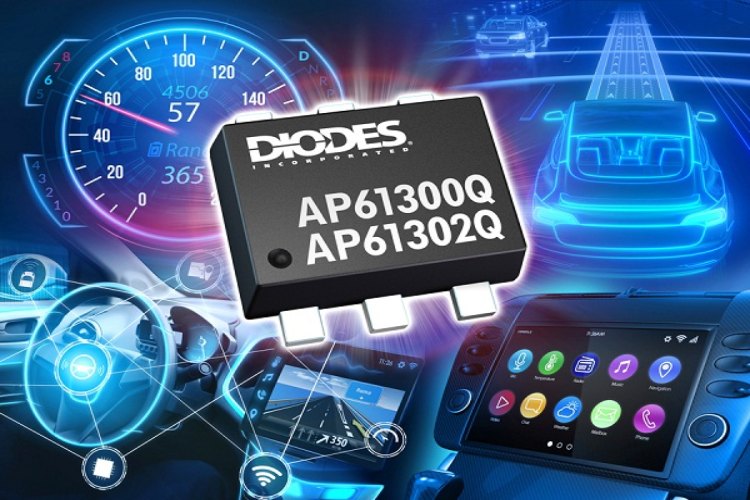 Diodes Incorporated has introduced the new automotive-compliant DIODES AP61300Q and DIODES AP61302Q synchronous buck converters that have a wide input voltage range of 2.4V to 5.5V, and address the need for automotive point-of-loads (POLs) that are more streamlined and exhibit increased efficiency levels. These 3A-rated devices are optimized for use in vehicles' telematics, ADAS, power and infotainment systems, as well as instrumentation clusters. Moreover, each of these buck converters features a 70mΩ high-side power MOSFET and a 50mΩ low-side power MOSFET which together deliver high-efficiency step-down DC-DC conversion.
Depending on the load conditions, the AP61300Q and AP61302Q converters can be configured to pulse frequency modulation (PFM) or pulse width modulation (PWM) operating modes (using the enable pin). Their quiescent current (IQ) of 19μA, when in PFM mode, allows them to maintain elevated efficiencies even in light load situations. Furthermore, their low drop-out (LDO) mode permits output voltage regulation to be maintained when the input voltage comes close to the VOUT voltage.
Features
AEC-Q100 Qualified for Automotive Applications

VIN: 2.4V to 5.5V

Output Voltage (VOUT): 0.6V to VIN

3A Continuous Output Current

0.6V ± 2% Reference Voltage

19μA Low Quiescent Current (Pulse Frequency Modulation)

2.2MHz Switching Frequency (VIN = 5V, VOUT = 1.8V)

Up to 84% Efficiency at 5mA Light Load

Programmable Operation Mode Through EN

Low-Dropout (LDO) Mode

Power-Good Indicator
Applications
Automotive power systems

Automotive infotainment

Automotive instrument clusters

Automotive telematics

Advanced driver assistance systems (ADAS)
Availability and Pricing
Supplied in SOT563 packages, these devices are AEC-Q100 Grade 1 qualified and are now available at $0.19 in 1000-piece quantities.