Fully Encapsulated AC/DC Power Supplies from TMW Series for Medical, Household, and Industrial Applications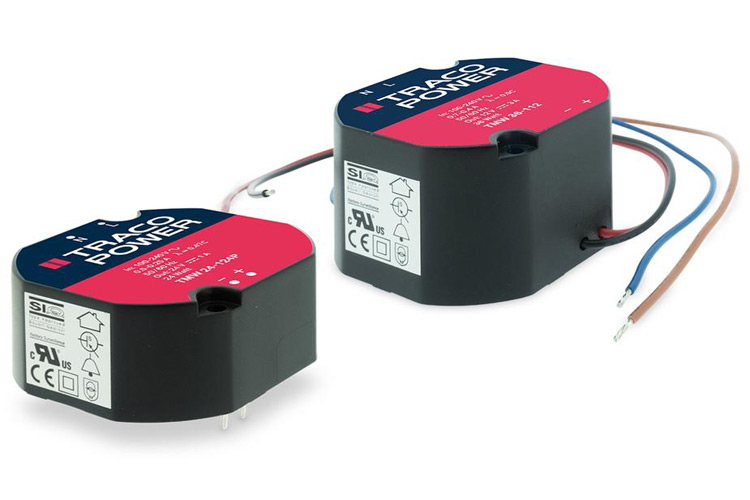 Traco Power has introduced new TMW Series of fully encapsulated AC/DC power supplies with a wide operating temperature range from -20°C to +80°C and waterproof IP68 housings. The Models of this Series are IEC/EN 62368-1, IEC/EN 60335-1, and IEC/EN 60601-1 3rd edition compliant and are certified for 2xMOPP. The TMW power supplies are prepared for protection class II applications and feature reinforced I/O isolation of 4000VAC. This Series is designed for medical, household, and industrial applications. 
The TMW Series features a leakage current of less than 100 μA for body-floating (BF) applications and is mounted in wall outlet boxes. These AC/DC Power Supplies are compact, dust resistant, and provide short-circuit protection (SCP), overvoltage protection (OVP), and over-temperature protection (OTP). Moreover, the product comes with a 5-year warranty.
Features
Fully encapsulated, dust resistant, and waterproof (IP68 certified)

Operating temperature range –20° to +80°C

Mountable in wall outlet boxes

Screw mountable on wood and inside furniture

Safety approval IEC/EN 62368-1 and IEC/EN 60335-1

2xMOPP certified according to IEC/EN 60601-1 3rd edition

Leakage current < 100 μA for body-floating (BF) applications

I/O isolation 4000 VAC (reinforced)
Applications
Medical Applications

Household Applications

Industrial Applications