FSA4480 - USB Type-C Analog Audio Switch with Integrated Protection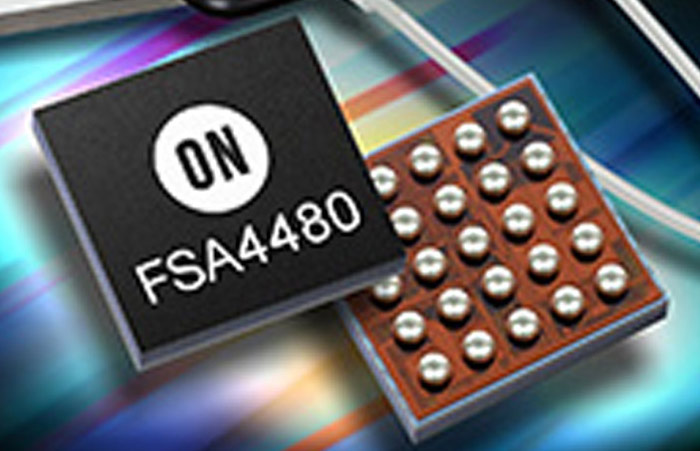 ON Semiconductor released FSA4480, a USB Type-C analog audio switch with integrated protection, along with NCS21x series of current sense amplifiers, which can be used together in USB Type-C applications as well as other power-oriented applications.
The FSA4480 is a high-performance USB Type-C port multimedia switch which supports analog audio headsets allowing a common USB Type-C port to pass USB2.0 signals, analog audio and analog microphone signals. It supports an audio sense path and is fully integrated and optimized solution that eases design-in and minimizes overall solution footprint. It contains integrated high voltage protection up to 20 volts (V) DC, and offers pinout support for both OMTP and CTIA - sometimes known as American Headset Jack (AHJ) - smartphone headset standards. There is overvoltage protection (OVP) on the common node pins and the unplugging of any audio device is automatically detected.
As FSA4480 has an integrated I2C interface, it is easily controlled by a host processor and audio 'pop and click' is highly reduced as the change is made. Housed in a small WLCSP chipscale package with dimensions just 2.24 mm x 2.28 mm x 0.5 mm, it is ideally suited to space-constrained mobile applications such as smartphones, tablets, digital cameras and speakers. It can also be utilized in computing devices including laptops, desktops and hybrid notebooks.
Features
Power Supply: VCC, 2.7 V to 5.5 V    
USB High Speed (480Mbps) SDD21 -3dB Bandwidth: 950 MHz             
USB High Speed RON: 3Ω Typical      
Audio Switch Negative Rail Capability: -3V to +3V     
Audio Switch THD+N = -110 dB; 1 VRMS, f = 20Hz-20 kHz , 32Ω Load 
Audio RON: 1Ω Typical          
High voltage Protection: 20V DC tolerance on connector side pins    
Over Voltage Protection: VTH = 5V Typical   
OMTP and CTIA pinout support        
Supports Audio Sense Path
Applications
Mobile Phones

Tablets

Notebook PC

Media Players