Efficient Power ICs Extend Battery Life and Reduce Solution Size of Consumer and Industrial Applications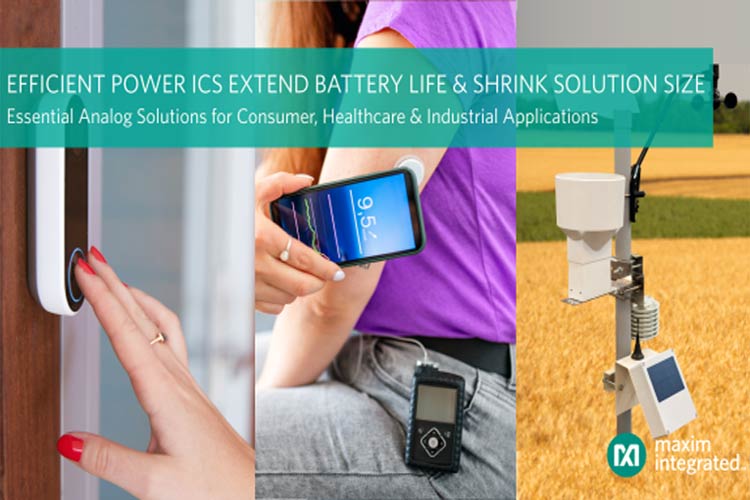 With low quiescent current, Maxim Integrated's new essential analog efficient power ICs, MAX17227A, and MAX17291 boost converter, and MAX38911 LDO can help the consumer and industrial product designers to extend battery life and reduce solution size besides improving the efficiency. These new devices offer high reliability and can help shrink the solution size to up to 50 percent smaller than the closest competitive solutions. Moreover, short-circuit protection and high PSRR help IoT systems overcome disruptions in harsh environments.
MAX17227A nanoPower boost converter targets the battery-operated IoT systems and features short-circuit protection, true shutdown, and an input voltage range from 400mV to 5.5V, and it can extend battery system life up to 10 percent. It delivers the high output power and low quiescent current and handles up to 2A switch current which is twice the closest competitive solution. Besides, it consumes half the quiescent current, at just 350nA.
MAX17291 high voltage 1A boost converter delivers a high voltage boost up to 20V and a quiescent current that is 80% lower and a solution size that is 60% smaller than the closest competitive offerings. This boost converter fits battery-operated systems with higher output voltage loads such as displays or sensors.
In a 50% smaller space than the completion solution, the MAX38911 500mA LDO draws only 19µA during idle mode to extend battery life up to 10 % in battery-operated IoT systems. The excellent power supply rejection ratio (PSRR) of the device helps in preventing noisy power supplies from interfering with critical functions such as precise measurements and communications.
The MAX17227A, MAX17291, and MAX38911 are available for $0.86, $0.74, and $0.67 from the company website. The MAX17227AEVKIT#, MAX17291EVKIT#, and MAX38911EVKIT# evaluation kits too are made available for $69.99 each. Additionally, EE-Sim models are also available for the MAX17227A and MAX17291.
Features of the MAX17227A
350nA Quiescent Supply Current from Output

96% Peak Efficiency, 90% or Higher at 500μA

Typical 850mA Output Current at 5.0V (VIN = 3.0V)

400mV to 5.5V Input Range, Up to 5.35V in Regulation

880mV Minimum Startup Voltage

2A Peak Inductor Current Limit

-40°C to +125°C Operating Temperature Range
Features of MAX17291
28μA Quiescent Supply Current from Input

Output Short-Circuit Protection

Overtemperature Protection

91% Peak Efficiency

1.8V to 5.5V Input Range

5.5V to 20V Output Voltage Range

1A Peak Inductor Current Limit

40°C to +125°C Operating Temperature Range
Note: More technical information can be found in the MAX17227A Datasheet linked at the bottom of this page and on the MAX17227A boost converter and MAX17291 boost converter, and MAX38911 LDO product page.