Dual High Speed Voltage Feedback Operational Amplifier for Ultra-Small Signal and High Frequency Applications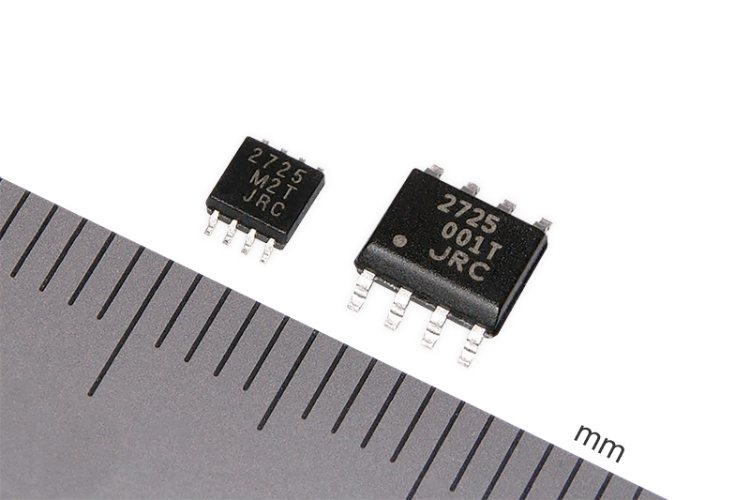 Nisshinbo Micro Devices Inc. has introduced the new dual high-speed voltage feedback operational amplifier NJM2725 that combines the high-speed performance of 160 MHz with the low-noise performance of 1.4 nV/√Hz, which is ideal for ultrasonic sensors that monitor distance and material conditions without contact. Designed for ease of use in high-speed and low-noise applications, this amplifier is suitable for high-speed photosensors, ultrasound sensors, and active filters.
NJM2725 amplifier can be easily configured as a low noise amplifier, and it can also be used as a high-performance ADC front end in combination with rail-to-rail op-amps. This device is stable for Gain ≥ 2 or Gain ≤ -1. Packages for this device are the 8pin SOP and the 8pin MSOP8 (VSP8) and are offered in the extended industrial temperature grade of -40°C to 125°C.
Features
GBW: 160MHz

Low Noise (f = 100kHz): 1.4nV/√Hz

Input Offset Voltage: 1mV max

Supply Voltage: 4V to 10V

Common-Mode Input Voltage Range: 1.5V to 3.8V

Output Voltage (RL = 1kΩ): 1.3V to 3.5V

Supply Current: 4mA/ch

Operating Temperature: -40°C to 125°C

Slew Rate: 15V/μs
Applications
Low Noise Instrumentation Front End

Ultrasound Preamp

High Speed Low Noise Active Filter

ADC Input Buffer Amplifier

Sensor Interface