Defence Logistics Agency (DLA) Qualified Multilayer ceramic capacitors from Kyocera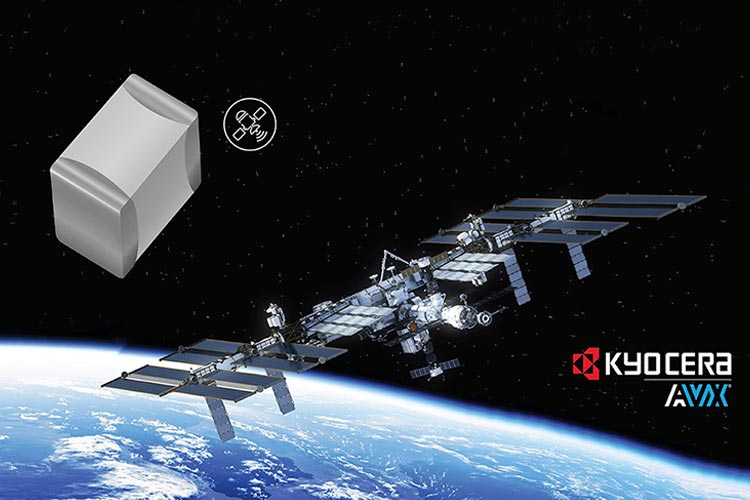 KYOCERA AVX, has announced that its MIL-PRF-32535 BME NP0 MLCCs have been approved to the Defense Logistics Agency (DLA) Qualified Products Database (QPD).
The new MIL-PRF-32535 BME NP0 MLCCs have higher CV capabilities than standard surface-mount PME MLCCs qualified to military and aerospace specifications and are currently available in "M" and "T" reliability levels and 0402, 0603, and 0805 case sizes and rated for 68–1,500pF and 4–100V. These small, high-CV MLCCs enable revolutionary board space, weight, and component count reductions. They also feature KYOCERA AVX's patented FLEXITERM® termination technology, which, compared to standard terminations, significantly enhances resistance to the thermomechanical stresses experienced during assembly and operation.
MIL-PRF-32535 BME NP0 MLCCs are approved for use in high-reliability military and aerospace applications including filtering, tuning, decoupling, timing, and blocking circuits.
Lead time for the series is currently 22 weeks for M-level reliability parts (Group A) and 38 weeks for T-level reliability parts (Groups A and B). However, lead times could be shorter if the parts are in stock at an authorized distributor, such as Avnet, Arrow, and TTI.
For prototype and verification designs, KYOCERA AVX recommends the use of its Engineering Module (EM) Range X7R BME MLCCs for non-flight prototypes. This series covers capacitors in the ESCC 3009041, NASA S311-P838, and MIL 32535 ranges and uses the same materials as the fully qualified part numbers, just without the final DLA and European Space Components Coordination (ESCC) testing and screening processes and QPD/QPL listings, so it's available with shorter lead times.