SCT3xxxxR – 4-Pin SiC MOSFETs with low switching loss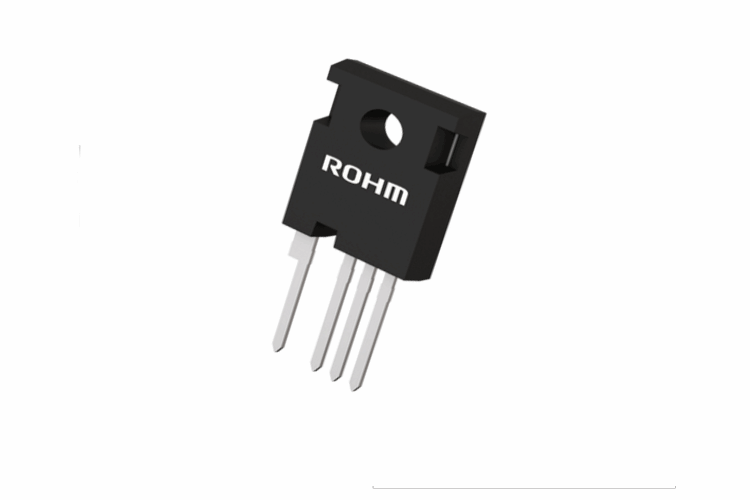 ROHM announced the availability of six (SCT3xxx xR series) new trench gate structure SiC MOSFETs (650V/ 1200V). It utilizes a 4-pin package (TO-247-4L) that maximizes switching performance, reduces switching loss by up to 35% over conventional 3-pin package types (To-247N) and contributes to lower power consumption in a variety of applications. In the 3-pin package the effective gate voltage at the chip reduces due to the Voltage dropped across the parasitic inductance of the source terminal which reduces the switching speed. Using the 4-pin package separates the driver and power source pins and minimizing the effects of the parasitic inductance components, this made it possible to maximize the switching speed of SiC MOSFETs.
Features of SCT3xxxxR SiC MOSFET:
The series operates with two different breakdown voltages, 650V and 1200V.

Drain source on resistance varies between 30mΩ to 105mΩ.

Drain loss will be 134W, 165W and 262W.

Operating Temperature Range -55°C to 175 °C.

Fast switching speed and reverse recovery

Low on resistance, Easy to parallel and simple to drive.

Pb-free lead plating; RoHS compliant
The new SCT3xxx xR series can be used in UPS Systems, Solar Power Inverters, Power Storage Systems, EV Charging Stations, Power Supply for Server Farms and Base Stations and more. This series of MOSFET has 6 MOSFET part numbers under it, namely SCT3105KR, SCT3080KR, SCT3080AR, SCT3060AR, SCT3040KR and SCT3030AR. The datasheet of all the MOSFETS can be found at its respective link. The datasheet of SCT3105KR MOSFET is given at the bottom of this page.
The ROHM also proposed solutions that facilitates application evaluation, including an SiC MOSFET evaluation board, 'P02SCT3040KR-EVK-001' equipped with gate driver ICs (BM6101FV-C) along with multiple power supply ICs and discrete components optimized for SiC device drive. The board is compatible with both TO-247-4L and TO-247 N packages. The evaluation board and the SiC MOSFETs are available for purchase , the price of the MOSFETs stars from $10.15/unit (1,000pcs). For more details visit the product page on official Rogm website.