P9222R – Wireless Power Receiver for In-Case Wireless Charging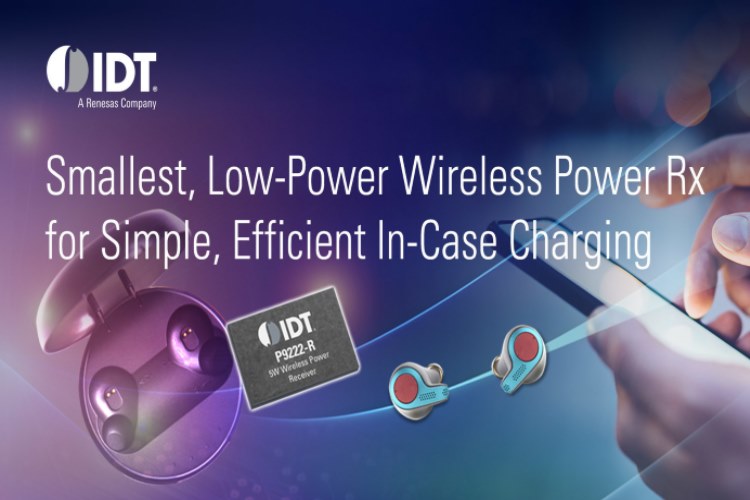 Integrated Device Technology, Inc (IDT), has announced the availability of the new P9222-R wireless power receiver, the industry's smallest and optimized receiver for wireless charging cases that can recharge small battery powered consumer devices such as earbuds, hearing aids and other small battery powered devices. Compared with other similar solutions, P9222-R is designed with cost optimization, highly efficiency, feature rich and  proven in high volume applications with major consumer electronics manufacturers.
Due to it's ultra compact size (2.28 x 3.38mm),the new receiver is ideal for wireless charging cases having the maximum power up to 5W and it is also supported by EVK reference Design with a small 30 x 30 mm coil. P9222-R is designed with the unique feature of ping detection for prevention of over heating and it is optimized for efficient light load operation in order to reduce the temperature rise. It has an integrated 32-bit ARM Cortex-M0 Processor that can offer a high level of programmability and design parameters that can be easily configured through the I2C interface or an external EEPROM. This feature helps in accelerating the time to market and also reduces the time spent in Qi certification.
Features
WPC 1.2 Qi Baseline Power Profile (BPP) compatible 

Low under-voltage lockout (UVLO) for low voltage start-up for faster connections over an extended area even if the wireless power transmitter's digital ping strength is weak.

ASK and FSK modulation/demodulation for Bi-directional Communication: Receiver-to-Transmitter and Transmitter-to-Receiver.

ADC input to measure battery voltage or system voltage

Supports I2C slave/master mode 

40-WLCSP: 5 × 8 ball array, 2.28 × 3.38 mm, 0.4mm pitch 

High performance low dropout (LDO) regulator with low RDS (on) and programmable current limiting 
Note: More technical information can be found at the datasheet linked at the bottom of this page
The P922R power receiver modules are available for purchase today, samples can be requested by visiting this product page on official IDT website.