MAX86150 – Integrated Electrocardiogram (ECG) and Photoplethysmogram (PPG) Bio-Sensor for mobile health monitoring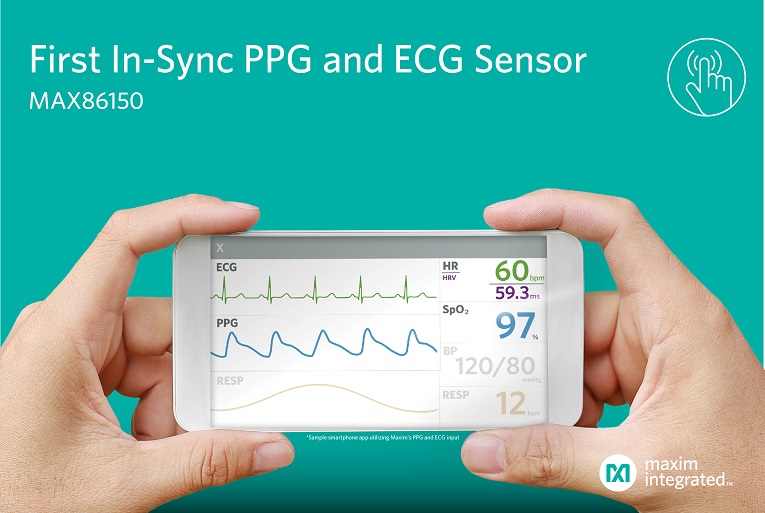 Maximum Integrated has launched a new bio-sensor which can measure both PPG and ECG as a single package. This sensor is aimed to be used in portable mobile devices like Smart phones, Laptops, Tablets etc. Hence it has been designed in s small form factor and consumes very less power. The sensor also claims to be highly accurate and FDA certifiable. IT has an integrated electrocardiogram, pulse oximeter, heart rate monitor sensor module. It includes internal LEDs, photodetectors, IR sensor and low-noise electronics with ambient light rejection.
The MAX86150 operates on a 1.8V supply voltage with a separate power supply for the internal LEDs. Communication to and from the module is entirely through a standard I2C-compatible interface. The module can be shut down through software with near zero standby current, allowing the power rails to remain powered at all times.
Features of MAX86150:
Operating Voltage: 1.8V
Supply Current: 750uA (max)
Shutdown Current: 0.7uA
Continuous Power Dissipation: 440mW
Interface: I2C
Accuracy: 136dB
Dimension: 3.3mm x 5.6mm x 1.3mm (22-pin)
Package: 22 OLGA
Note: The complete technical details can be found at the data sheet linked at the bottom of this page
The MAX86150 Bio-Sensor is currently in production and is available for purchase from Maxim website and its authorized distributors at a price of $4.0. Designers can also make use of the evolution kit  MAX86150EVS to test their designs, the kit is priced at $150.