AH1911/AH1921 – Ultra Low Power Digital Omnipolar Hall-Effect sensor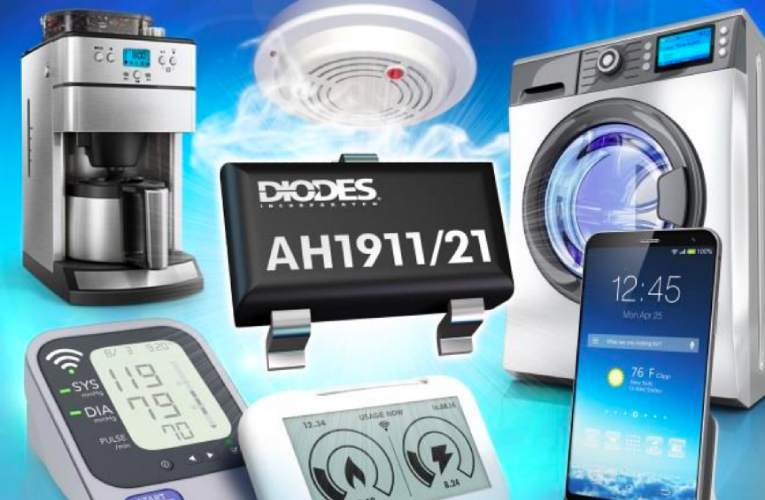 With an average supply current of only 1.6uA (at 3V) and a wide operating voltage from 1.6V to 5.5V the new AH1911 Hall-effect sensor from Diodes Incorporated is suitable for battery-powered consumer products like Gas meters, Water meters, Smoke detectors, IoT devices etc.
The single push-pull for AH1911 or open drain for AH1921 output can be switched on with either South or North Pole of sufficient strength. When the magnetic flux density (B) perpendicular to the package is larger than operate point (BOP), the output will be turned on (pulled low) and held until B is lower than release point (BRP). Operating and release points for the magnetic switch are tightly controlled over temperature and supply voltage due to advanced stabilizing techniques for accurate and repeatable performance. Flux density switching points are typically ±60 Gauss (6mT) to operate and ±45 Gauss (4.5mT) to release.
Key Features of AH1911/AH1921:
Operating Voltage: 1.6V to 5.5V
Supports both 3.3V and 5V systems
Average current consumption: 1.6uA @ 3V
Can detect North of south pole
Output: Push-pull(AH1911), Open Drain (AH1921)
ESD capability of 6kV
Minimal drift and Enhanced Immunity
Available in SC59 Package
 More information can be found at the datasheet linked below. The AH1911/AH1921 comes with industry standard SC59 package and is currently available for purchase.