14-Bit, 1-MSPS Analog to Digital Converter for Radiation Hardened Performance in Satellites, Manned Spacecraft, and Lunar Space Missions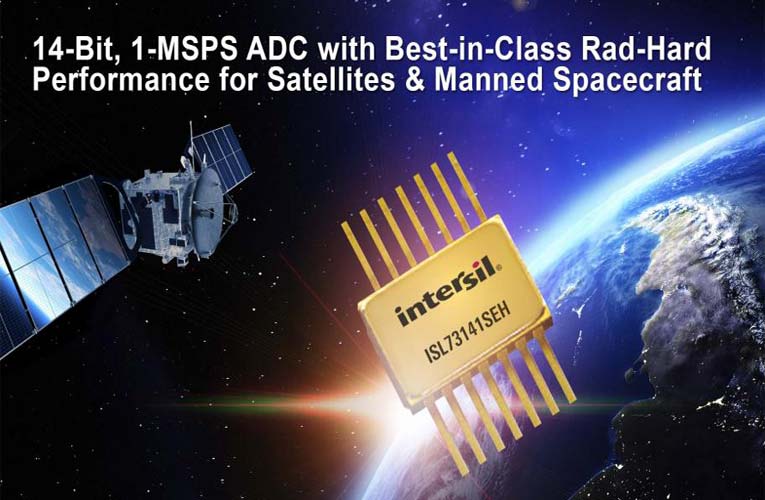 ISL73141SEH, a high-performance Analog-to-Digital converter (ADC) from Renesas Electronics Corporation has been released under its Intersil Brand. The new 14-Bit, 1-MSPS successive-approximation-register (SAR) converter has been designed for radiation-hardened (rad-hard) space applications. With the best-in-class dynamic and static performance such as signal-to-noise ratio (SNR), the effective number of bits (ENOB), integral nonlinearity (INL), and differential non-linearity (DNL), the device captures real-world analog transmissions and converts them from processing in the digital domain.
The ISL73141SEH is one of the key signal-path building blocks in long-duration geosynchronous/geostationary Earth orbit (GEO) communication satellites and manned spacecraft, including lunar space missions. The ADC together with a rad-hard temperature sensor, multiplexer, quad op-amp, ADC driver, LDO, and voltage reference forms a complete sensor interface signal chain solution that accelerates telemetry, tracking, and control (TT&C), and flight computer system development.
The ADC is characterized for enhanced low dose rate-sensitivity (ELDRS) radiation performance up to 75krad (Si) for total ionizing dose (TID) and linear energy transfer (LET) up to 86MeV*cm2/mg for single event effects (SEE).
Features of ISL73141SEH ADC
1-MSPS throughput rate with no data latency and no missing codes

5V supply dissipates only 60mW

High SNR of 82.1dBFS at 5V supply operation

Operating from a 3.3V supply at 750-KSPS dissipates only 28mW

Single supply operation simplifies system design

The highest dynamic performance of 13.3 ENOB, enabling > 12-bit resolution

Superior linearity: ±0.5 LSB INL and ±0.2 LSB DNL

Full military temperature range of -55°C to +125°C
Note: More technical Information can be found in the ISL73141SEH Datasheet linked at the bottom of this page and on the ISL73141SEH ADC product page.