RFM69HW LoRa Module
The RFM69HW module is available in 3 different operating frequencies, 433MHZ, 868MHz, and 615Mhz. While buying the module we should consider the license-free ISM (Industry Scientific and Medical) frequency band in our respective countries. The FRM69 is highly optimized for low power and offers a very large coverage. It can output upto 100mW output power. It is highly sensitive up to -120dBm at 1.2kbps.
RFM69HW Pinout Configuration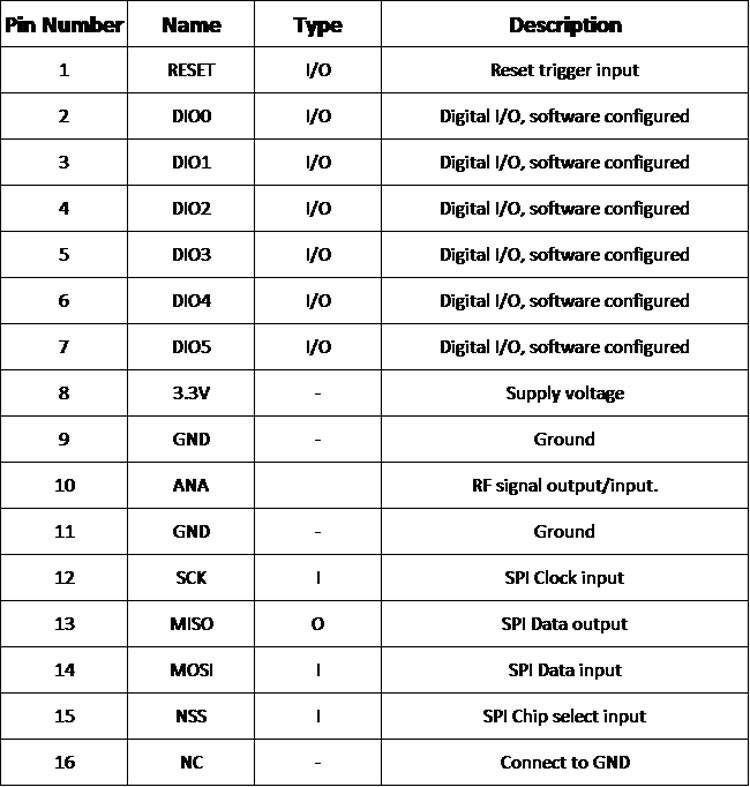 Features
+20 dBm - 100mW Power Output Capability
High Sensitivity: down to -120 dBm at 1.2 kbps
High Selectivity: 16-tap FIR Channel Filter
Bullet-proof front end: IIP3 = -18 dBm,
IIP2 = +35 dBm,80 dB Blocking Immunity, no Image Frequency response
Low current: Rx = 16 mA, 100nA register retention
Programmable Pout: -18 to +20 dBm in 1dB steps
Constant RF performance over voltage range of chip
FSK Bit rates up to 300 kb/s
Fully integrated synthesizer with a resolution of 61 Hz
FSK, GFSK, MSK, GMSK and OOK modulations
Built-in Bit Synchronizer performing Clock Recovery
Incoming Sync Word Recognition
115 dB+ Dynamic Range RSSI
Automatic RF Sense with ultra-fast AFC
Packet engine with CRC-16, AES-128, 66-byte FIFO Built-in temperature sensor
Note: Complete Technical Details can be found in the datasheet given at the end of this page.
Alternative for RFM69HW: SX1278, RFM69HCW, SX1276, SX1262
How To Use RFM69HW Module?
The RFM69HW module uses the SPI communication protocol for interfacing. So, it can be used with any microcontroller with SPI bus. Like most of the RF module, it is necessary to connect an antenna to the module, otherwise the PA section of the module can be permanently damaged. And the power supply and communication bus voltage should be 3.3V and it should never exceed 3.6V to avoid damaging the module. A simple connection diagram for the module is given below.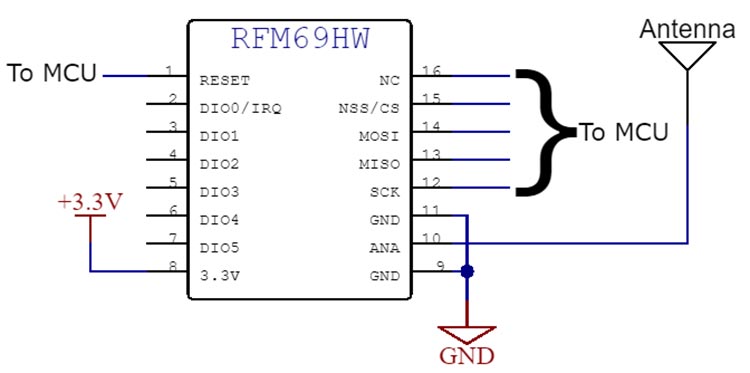 Applications
Automated Meter reading
Wireless Sensor Networks
Home and Building Automation
Wireless Alarm and Security Systems
Industrial Monitoring and Control
Wireless M-BUS
2D Model and Dimensions