PL2303 USB to TTL Converter Module
PL2303 UART Module integrated with PL2303 IC from Prolific Technology, which is a single-chip USB to UART bridge IC. This USB-to-UART bridge controller provides a simple solution to update the design of the RS-232 using minimal components and PCB space. Royalty-free Virtual COM Port (VCP) allows device drivers as a COM port in PC applications. This module allows an asynchronous serial data bus (UART) with a USB 2.0 full-speed function controller, USB transceiver, and full modem control signal.
PL2303 UART Module Pinout Configuration
| | |
| --- | --- |
| Pin Name | Description |
| 3.3V | 3.3V VCC pin |
| 5.0V | 5.0V VCC pin |
| TxD | Asynchronous data output (UART Transmit) |
| RxD | Asynchronous data input (UART Receive) |
| GND | Ground |
The pinout can be easily seen in the below image-

Features
3.3V & 5.0V operations for DDWRT support on different voltage system

Standard USB type A male and TTL 6pin connector.

500mA self-recovery fuse for protection.

Two data transmission indicator can monitor data transfer status in real-time

Works with existing COM port PC applications. Ready for Windows 8/7/Vista/Server 2003/XP/2000/CE

Plastic coating protection from standard wear and tear.

Size: 52mm X 15.5mm x 6.5mm (L x W x H).
Note: Complete technical details can be found in the PL2303 Datasheet linked at the bottom of this page.
PL2303 Module Overview
The main USB to UART bridge IC is PL2303.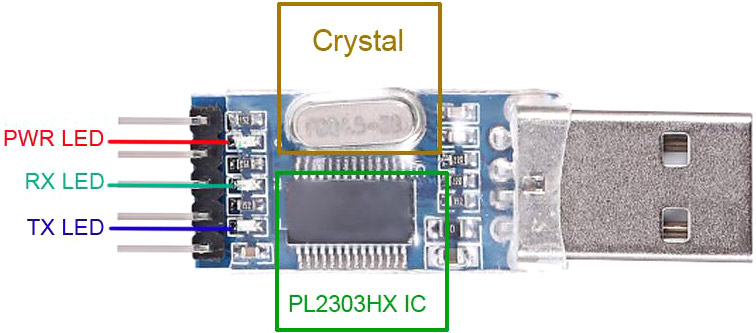 This PL2303 UART module is a USB to TTL UART Converter module which is based on PL2303 Bridge by Prolific Technology. This PL2303 UART module is compliant with USB2.0 full-speed devices with an integrated transceiver. It has real-time LEDs on the data lines that provide data transfer status in real-time. A 500 mA of a self-recovery fuse is used for protection purposes.
This module can be used as a standard serial port with Laptops that don't have a standard serial port. This module creates a virtual COM port using USB on your computer which can support various standard Baud Rates (300 bps to 1 Mbps) for serial communication. This module includes the TX (transmit) and RX (receive) data signals.
Interfacing Diagram

The interfacing of the PL2303 based UART module is quite easy. Follow the below image to connect the module. The UART module can be interfaced with any microcontroller unit that has a UART interface.
Applications
Debug purpose in the development

Microcontroller to PC communication

Programming related purposes
2D Model
The dimensions of the PL2303 UART Module Module is shown below: