SC8206 Remote Fan Control IC
[Click the image to enlarge it]
The SC8206 is an IC that is used to control commercial Swing Fans with remotes. It is available in 18-pin and 20-pin package and has built in timers, oscillators, speed controls and operating modes making it easy to control Fans. The IC is normally used in combination with SC5104 which is remote decoder IC.
Pin Description
| | | |
| --- | --- | --- |
| Pin Number | Pin Name | Description |
| 1 | DI | Input pin - Connect to Infrared receiver to get remote signals |
| 2 | OFF | Use to shut down power to motor (Fan) |
| 3 | TIMER | Use to set preset for off time |
| 4 | SPEED | Used to control speed of fan |
| 5 | Mode | Use to control operating mode of fan |
| 6,7,8 | COM1,2,3 | Communication output pins – Connect to LED to know the status of fan |
| 9 | SWING | Input pin – Turn swing on or off |
| 10 | SHO | Output pin – Swing drive level indictor |
| 11,12,13 | STR,MED,LOW | Strong, Medium and Low PWM output pins. Use to drive the motor through TRIAC |
| 14 | VDD | Ground pin |
| 15 | BUZ | Output pin – Connect to Buzzer |
| 16,17 | OSCO,OSCI | 455kHz Oscillator output and input pin |
| 18 | Vcc | Power Pin - 3Vto 6V |
Features and Specifications
Remote Fan Control IN
Three Operating Mode and Three Speed Modes
Monitor upto 30dB using 10 LEDs
Built in 455kHz Oscillator
Operating Voltage: 3V to 6V
Drive output current: 10mA
Buzzer Output Current: 5mA
Available in 18-pin and 20-pin Package
Note: Complete Technical Details can be found at the datasheet given at the end of this page.
Equivalent for SC8206: SC2128A, PT2129A
Where to use SC8206
The SC8206 is an age old Remote Fan Control IC that can be used in commercial Fans. The IC can be interfaced with remote control decoder IC and the fan can be controlled by a wireless RF remote. A typical application circuit of the IC is shown below.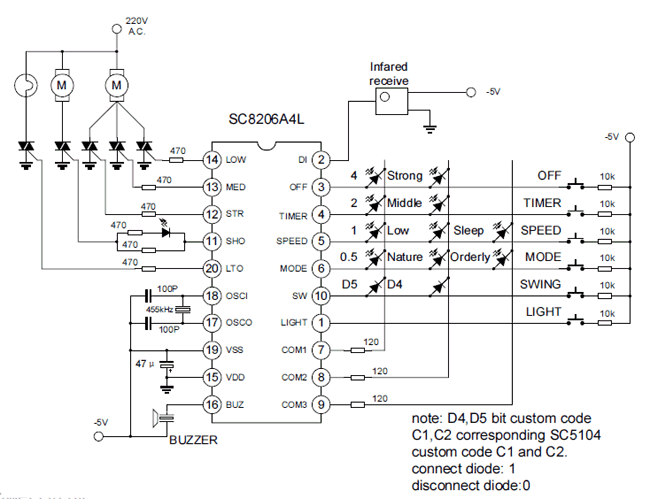 The IC is available in 18-pin and 20-pin package. The above schematics are given for 20-pin circuit but the same can also be used for 18-pin ignoring pin 19 and 20. As you circuit has two motors, one that controls the fan motor and the other that controls the swing of the motor. The IC supports three operating speeds and hence the fan motor is connected to three output pin of the IC each for a different speed level. Apart from this the IC also supports three operating modes which the explanation for each mode can be found in the datasheet linked at the bottom of this page.
The IC also supports a buzzer and LED outputs to indicate the status of the fan. The above diagram shows push buttons as switches to control the parameters of the fan, but it can also be controlled by a remote whose signals will be picked up by the infrared receiver connected to pin DI. The datasheet also shows an application circuit for SC5104 IC which will acts a remote decoder along with this IC.
Application
Fan control circuit
Motor speed control circuit
Swing and speed control for Fans
Heater and Air conditioners
Humidifiers
2D Model of SC8206 (PDIP)