LM4558 – Dual Operational Amplifier IC
LM4558 is an IC consists of Two General Purpose Operational Amplifiers and is a member of 'LMxx' family. The LM series originated with integrated circuits made by National Semiconductor. The prefix LM stands for linear monolithic, referring to the analog components integrated onto a single piece of silicon. The chip is short circuit protected and the internal frequency compensation ensures stability without external components.
LM4558 Pin configuration
LM4558 is a 8 pin device as shown in above pin diagram and description for each pin is given below.
| | | |
| --- | --- | --- |
| Pin | Name | Description |
| 1 | 1OUT | Output pin of the Op-amp 1 |
| 2 | 1IN- | Inverting input of Op-amp 1 |
| 3 | 1IN+ | Non-Inverting input of Op-amp 1 |
| 4 | GND | Ground |
| 5 | 2IN+ | Non-Inverting input of Op-amp 2 |
| 6 | 2IN- | Inverting input of Op-amp 2 |
| 7 | 2OUT | Output pin of the Op-amp 2 |
| 8 | VCC | Power supply |
The device is available in many packages the user can choose depending on requirement.
Features and Electrical characteristics of LM4558 IC
Two individually operated operational amplifiers
Low noise interference among op-amps
Continuous Short-Circuit Protection
No frequency Compensation Required
No latch-up
Large common mode and differential voltage range
Gain and phase match between amplifiers
Low noise input transistors
Moisture Sensitivity Level 3
Parameter tracking over temperature range
CMRR (Common-Mode Rejection Ratio): 80dB
Single Supply Operation: +5.0 V to +15 V
Dual Supply Operation: +15V and -15V
Operating temperature: 0ºC to 70ºC
Total power dissipation: 200mW
Op-Amp ICs Similar to LM4558
LM158, LM258, LM358, LM2904, LM747
LM4558 IC Overview
LM4558 consists of two general purpose op-amps and its applications are based on them. The device can be used to realize general purpose op-amp operation circuits like comparator, differential amplification or mathematical operations. The high common-mode input voltage range and the absence of latch-up make these amplifiers ideal for voltage-follower applications. In addition with two of those op-amp on board the device can perform two different functions at a time which comes in handy in applications.
How to use LM4558 IC
First let us consider the internal connection of two op-amps in the device as shown below.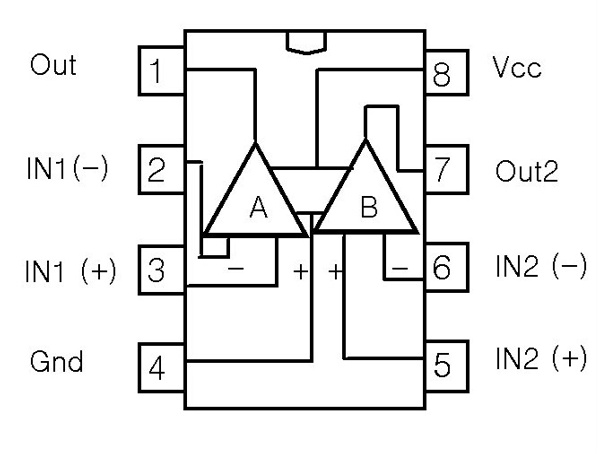 As mentioned earlier we can use these two op-amps to realize most of op-amp based circuits like comparator, differential amplification and mathematical operations. We will use op-amp to construct a simple comparator circuit to understanding the working of op-amp. Now let us take a single op-amp from the two and construct a simple application circuit as show below.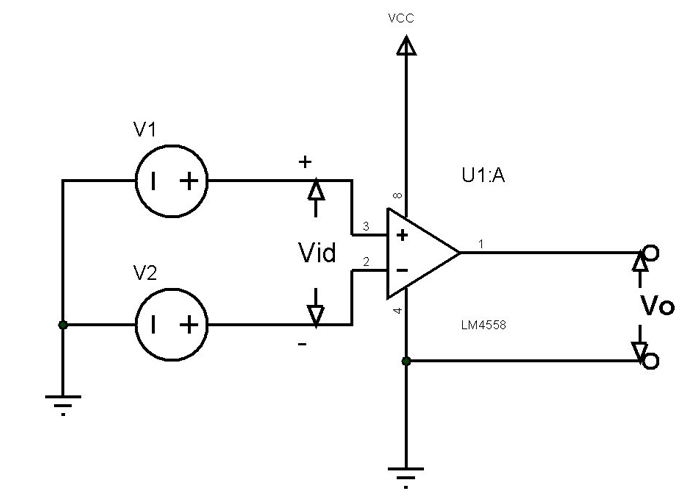 In the circuit a comparison between voltages V1 and V2 is done by the device and an output is provided as Vo. Also the device is powered from single voltage source of VCC.
In the circuit, Vid = V1 – V2
If Vid >0 then Vo = VCC
If Vid<0 then Vo = 0V or GND
Based on the state of the output we can determine whether Vid is positive or negative and also whether V1 is higher or V2 is higher at the input. With the higher voltage being know by knowing the output the function of op-amp as a comparator is done.
Applications
Mathematical operations
Amplifiers
Oscillators
Voltage comparators
Peak detectors
Logic voltage translation
Industrial
Measuring instruments
2D-Model
All dimensions are in inches [millimeter in brackets]