LM358 Dual OP-AMP IC
LM358 Pin

Configuration
| | | |
| --- | --- | --- |
| Pin Number | Pin Name | Description |
| 1 | OUTPUT1 | Output of Op-Amp 1 |
| 2 | INPUT1- | Inverting Input of Op-Amp 1 |
| 3 | INPUT1+ | Non-Inverting Input of Op-Amp 1 |
| 4 | VEE, GND | Ground or Negative Supply Voltage |
| 5 | INPUT2+ | Non-Inverting Input of Op-Amp 2 |
| 6 | INPUT2- | Inverting Input of Op-Amp 2 |
| 7 | OUTPUT2 | Output of Op-Amp 2 |
| 8 | VCC | Positive Supply Voltage |
LM358 Dual Op-Amp IC Features and Specifications
Integrated with two Op-Amps in a single package

Wide power supply Range
Singe supply – 3V to 32V

Dual supply – ±1.5V to ±16V
Low Supply current – 700uA

Single supply for two op-amps enables reliable operation

Short circuit protected outputs

Operating ambient temperature – 0˚C to 70˚C

Soldering pin temperature – 260 ˚C (for 10 seconds – prescribed)

Available packages: TO-99, CDIP, DSBGA, SOIC, PDIP, DSBGA
LM358 Equivalent

Dual Op-Amp ICs
LM358A, LM358E, LM358-N, LM358W
Other Dual Op-Amp IC
Note: Complete technical information can be found in the LM358 Datasheet linked at the end of the page.
Supply Connection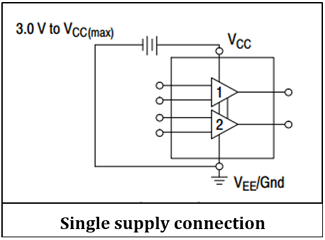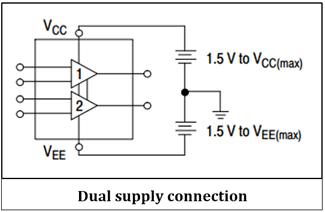 Above is the supply configuration for both single and dual supply connections.
Brief Description:
LM358 is a dual op-amp IC integrated with two op-amps powered by a common power supply. It can be considered as one half of LM324 Quad op-amp which contains four op-amps with common power supply. The differential input voltage range can be equal to that of power supply voltage. The default input offset voltage is very low which is of magnitude 2mV. The typical supply current is 500uA independent of the supply voltage range and a maximum current of 700uA. The operating temperature ranges from 0˚C to 70˚C at ambient whereas the maximum junction temperature can be up to 150˚C.

Example :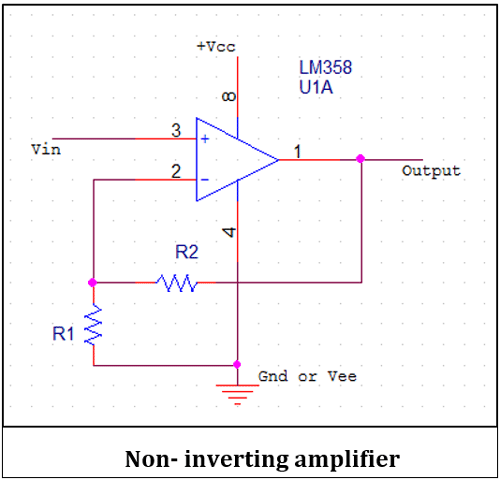 Output=(

1+

R2/

R1)

*Vin
Applications
Transducer Amplifiers

Conventional op-amp circuits

Integrator, Differentiator, Summer, adder, Voltage follower, etc.,

DC gain blocks, Digital multimeters, Oscilloscopes

Comparators (Loop control & regulation)
2D-Model and Dimensions