BS801B Touch Key Controller
BS801B is a touch key controller with single key input. It is a very useful alternative to standard physical electronic or mechanical switches with a very low component count. It can detect human body contact using an external touch sensor.
The controller uses internal circuitry specially designed for power-related noise rejection that effects in the reduction of false detection. Thus making it reliable for operations in adverse environmental conditions as well as in industrial applications. The sensor enables auto-calibration, hence there is no need to calibrate it manually.
Pin Description of BS801B
| | | |
| --- | --- | --- |
| Pin Number | Pin Name | Description |
| 1 | Kout | Touch output pin |
| 2 | VSS | Negative power supply Pin |
| 3 | Key | Touch key input |
| 4 | Cref | Touch key reference capacitor input |
| 5 | VDD | Negative power supply or Ground |
| 6 | LHF | Output key type selection |
The pinout is shown in the below image-

Features and Specification of BS801B
Ultra-low standby current: 1.5uA at 3V

Operating Voltage (VCC = 2.2V - 5.5V)

Auto-calibration

High-reliability touch detections

Output type selection: Level-hold or Toggle

One-Key wake-up mode
Note: Complete technical details can be found in the BS801B Datasheet, linked at the bottom of this page.
Alternative for

BS801B
The following are the equivalents for BS801B-
1. TTP223
2. TTP226
3. AT24QT1010
BS801B Touch Controller IC Overview
The BS801B touch controller is equipped with a single touch detection feature with the output type selection pin. It offers a wide operating voltage from 2.2V to 5.5V. BS801B offers LHF pins that can be set as open or low externally and the output can be selected as Level-Hold output or toggle type.
The touch controller sensitivity can also be adjusted by using an external capacitor ranging from 0pF to 10pF. Higher value capacitance results in higher sensitivity.
Overall, BS801B offers an easy and cost-effective implementation of touch sensor capabilities in various applications.
How to Use BS801B Touch Key Controller IC
The below BS801B Application Diagram is showing the standard connection of the BS801B controller.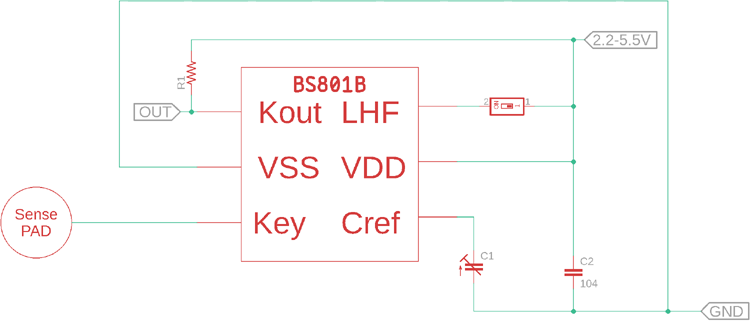 The LHF pin can be open or connected with the ground to set it low. However, the logic level of the LHF pin mustn't change state after power on.
Applications of BS801B
Appliances control

Wide range of consumer products

Replacement of button switches
The dimensions of BS801B is given below to help you with selecting the PCB footprint for BS801B.