USBLC6: Low Capacitance TVS Diode
[Click the image to enlarge it]
The USBLC6 is a monolithic Application-Specific TVS diode array dedicated to ESD protection of high-speed interfaces such as USB2.0, Ethernet links, and Video lines. USBLC6 has a very low leakage current (150nA Max.), that makes it suitable for battery-powered devices.
Pin Configuration
| | | |
| --- | --- | --- |
| Pin No. | Pin Name | Description |
| 1 | I/O 1 | Input/Output Pin |
| 2 | GND | Ground Pin |
| 3 | I/O 2 | Input/Output Pin |
| 4 | I/O 2 | Input/Output Pin |
| 5 | Vcc | Power Supply Pin |
| 6 | I/O 1 | Input/Output Pin |
Features
Current - Peak Pulse: 5 A
Leakage Current: 150 nA
Capacitance: 2.5pF typical (I/O to I/O)
Working Voltage: 5.25 V
Breakdown Voltage: 6 V
Clamping Voltage: 17 V
Operating Temperature Range: -40 to 125 °C
Available in SOT-23-6 Package
Note: Complete Technical Details can be found at the USBLC6 datasheet given at the end of this page.
Alternative for USBLC6: RLCAMP2504P, SRV05
Other TVS Diode Arrays: AQ1003, AQ1005, SP1305
Overview of USBLC6
For sensitive semiconductor components and common electronic products, protection from ESD, EFT and lightning is necessary, but incorporating diode protection can introduce capacitance which reduces the bandwidth of data transmission lines. The USBLC6 is an integrated ESD protection diode array that can incorporates multiple diodes, can protect two data lines and is also capable of protecting the bus voltage of that transmission line. USBLC6 has a low capacitance of 2.5pF and low leakage current of 150nA.
USBLC6 diode array has four surge rated, low capacitance steering diode and a Zener diode in a single package to protect each I/O pin against ESD and high surge events. Internal circuit diagram for USBLC6 is shown below.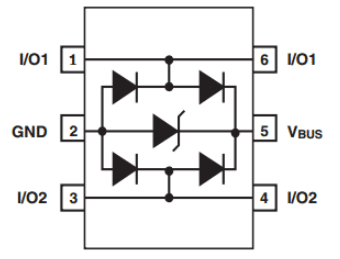 When the transient condition occurs, steering diodes direct the transient to ground or positive side of power supply.
Applications
USB 2.0 ports up to 480 Mb/s (high speed)
Compatible with USB 1.1 low and full speed
Ethernet port: 10/100 Mb/s
SIM card protection
Video line protection
Portable electronics
2D representation (SOT-23)