RGB LED
Pin Configuration
| | | |
| --- | --- | --- |
| Pin No. | Pin Name | Description |
| 1 | R | This terminal used for glowing LED in Red color |
| 2 | Gnd | Common Cathode terminal (Ground) |
| 3 | G | This terminal used for glowing LED in Green color |
| 4 | B | This terminal used for glowing LED in Blue color |
Features and Specifications
Low Thermal Resistance
No UV rays
Super High flux Output and High luminance
Forward Current for Red, Blue and Green color: 20mA
Forward Voltage

Red: 2v (typical)
Blue: 3.2(typical)
Green: 3.2(typical)

Luminous Intensity

Red: 800 mcd
Blue: 4000 mcd
Green: 900 mcd

Wavelength

Red: 625 nm
Blue: 520 nm
Green: 467.5 nm

Operating Temperature: -25 ℃ to 85 ℃
Storage Temperature: -30 ℃ to 85 ℃
Where RGB LED are Used?
A RGB LED is commonly used component in electronics, generally, as it is used for indication purpose. You can use RGB LED in various projects like portable flashlight, LED indicator, etc. An RGB LED can also be used for work according to condition like for condition 1st Red will glow, for condition 2nd green will glow and for condition 3rd blue will glow. We can use three different LEDs to perform the same task but this will increase the size of circuit and took more space on PCB or perf board.
How to Use RGB LED?
The given RGB LED Circuit diagram is for Multi-Color LED flasher. We have used a 4017 decade counter IC which is getting clock input generated by 555timer IC. The RGB LED is connected to the three output of the 4017 IC as the output goes HIGH, it turns ON the respected color of RGB LED. As the Q0, Q1 and Q2 output goes high Red, Green and Blue color LED turns ON respectively. The circuit remain turn ON until the supply is disconnected.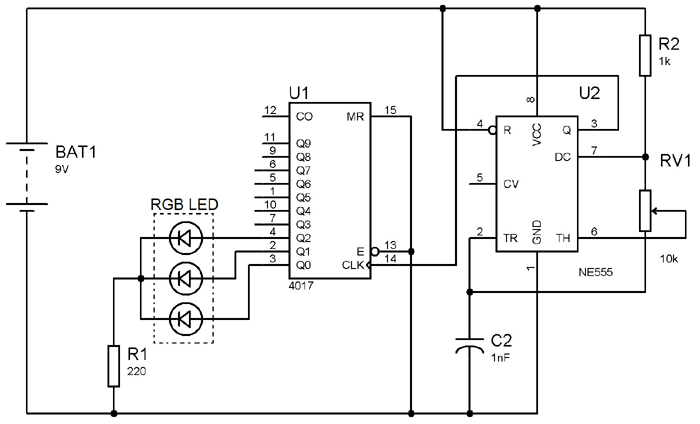 Applications
Industrial Application
Portable Flashlight/ torchlight
Light guides
Decorative Lighting
LCD backlight
Multi-color Light
2D-model